Every year the folks behind the Version Festival present a capsule view of Chicago's ever-evolving ecology through a series of events that emphasize the "Do-It-Together" spirit of the Chicago art scenes. Version Festival 10: Infrastructures and Territories begins tomorrow, Thursday, April 22 and runs through May 2nd (pick up a guide to the festival at various galleries and art spaces around town, or download one here). The festival kicks off with the group exhibition called Territories @ the Zhou B Center. At Saturday's opening performance the Paper Rad band Extreme Animals, LA -based Telefantasy and local giants Mahjongg and much much more will perform at Co-Prosperity Sphere.
On Saturday April 24 and Sunday April 25 the festival takes up diggs at a community center in Bridgeport in order to host its version of an "art fair cum experimental trade show": the NFO XPO. According to the Festival's website, this year's events will include "historical re-enactments, antiwar organizing, Version tv shows, an art parade, an artist-run art expo, a catalog of interventionist strategies, networking between independent groups and spaces, inflatable art, one-night exhibition formats, Do-It-Yourself and Do-It-Together projects, the Tech Noir Bar, a mobile silkscreen printing cart, artist granting projects, a national WPA-inspired public poster project, a free school, impressive musical performances, boring theoretical nonsense, mapping projects, pop-up galleries, Korean/Polish BBQ and more."
Visit the Version 10 festival website to find the full schedule of events. Check out their Facebook group to learn about upcoming activities and the over 30 events organized by the festival's 300 participants from around the world.  And if you want your Version in the form of 140 characters or less, comedian Nick Bahr will be hosting the Version Tweets. Be there people!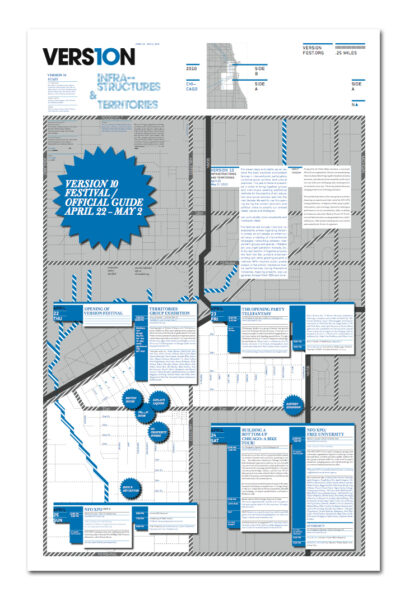 Claudine Isé has worked in the field of contemporary art as a writer and curator for the past decade, and currently serves as the Editor of the Art21 Blog. Claudine regularly writes for Artforum.com and Chicago magazine, and has also worked as an art critic for the Los Angeles Times. Before moving to Chicago in 2008, she worked at the Wexner Center in Columbus, OH as associate curator of exhibitions, and at the Hammer Museum in Los Angeles as assistant curator of contemporary art, where she curated a number of Hammer Projects. She has Ph.D. in Film, Literature and Culture from the University of Southern California.
Latest posts by Claudine Isé (see all)