Hello again, my lovelies. So, as I was sayin' on my gallery crawl blog, I was a little worried Monday when I started putting the listing together. At that point it was looking a little bleak. Thankfully that situation has remedied itself. It's always nice when the weekend picks are relatively easy, and this weekend there is so much good stuff that picking was easy, it was whittling down that was hard. Here are a few places that still look awesome, but didn't make it to the Top 5: Visions from a Foxhole at Pritzker Military Library, Rune at Ben Russell (dude, get a website, please! or if you have one, tell me where it is), We Are the World at Roots and Culture, and Ethan Greenbaum and Katrin Sigurdardottir at The Suburban. This is seriously the Alt. Space Weekend! As an odd testament, not one opening (that I could find) in River North. So go out, support your local project spaces, alternative spaces, apartment galleries, garage galleries, corners-of-living-rooms-with-art-badly-hung-in-them places, and enjoy the (inevitable and awesome) cheap beer. SALLY FOURTH!
1. ChicagoLand at PeregrineProgram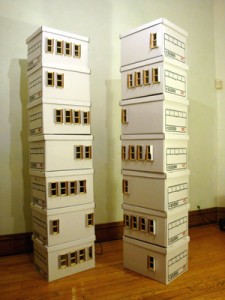 So I saw Daniel Lavitt out in the streets last weekend and asked him about the show. I'd seen the announcement card around (you've probably seen it too, him staring Godzilla-style through a tiny window), but wasn't sure exactly what the hell was going on. Well, my friends, this stuff looks like a whole pile of awesome! I love miniaturized work, it's always a bit creepy and awkward. For this work, Lavitt is not only miniaturizing Chicago, he's doing it to culturally and personally significant places AND wiring them along an economic gradient. I've never been to this space, so I'm super stoked on seeing a new venue and Lavitt's new work.
PeregrineProgram is located at 500 W Cermak Rd, #727. Reception is Friday from 6-9pm.
2. Artist Run Spaces Tour 2010: Plisen/Bridgeport (sponsored by HPAC)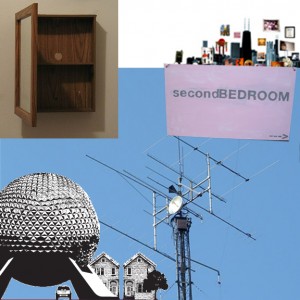 I don't know how many of you got to go on the West Side Apartment Gallery Tour last year. It was organized by HPAC along side the Artist Run Chicago madness they had going on (madness in the good way). Well, HPAC is bringing the tour back. I remember at the end of the West Side tour, as we sat munchin' in the backyard of MiniDutch, everyone was talking about doing it again, and it looks like they have. On HPAC's website it says this is the "first" Artist Run Space tour of 2010, so perhaps we have many to look forward to. For this round, the tour is hitting the Pilsen/Bridgeport area and visiting Antenna Gallery, Ben Russell, The Chicago Art Department, Co-Prosperity Sphere and Second Bedroom Project Space. The tour is free, and leaves from Café Jumping Bean (1439 W 18th St.) at 11am Saturday morning. Be there or be…well…lame.
3. Four Names at Barbara & Barbara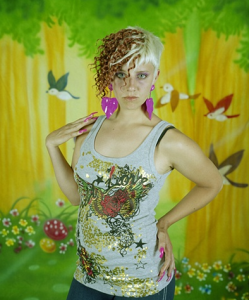 Barbara and Barbara love you. And they love photography. Or at least that's how it looks. This show, featuring, you guessed it, four artists, consists of work that is slightly dark, slightly whimsical, and a whiplash of color. Above is one piece featured in the show: "Wild Love" by Helen Maurene Cooper. An perhaps this time they'll have more minty cupcakes. Mmmm, tasty. The show features photographs by Eric Bessel, Helen Maurene Cooper, Grant Ray, and Jennifer Ray.
Barbara and Barbara is located at 1021 N. Western. Reception is Saturday from 7-11pm.
4. The Hills Have Thighs at The Hills Esthetic Center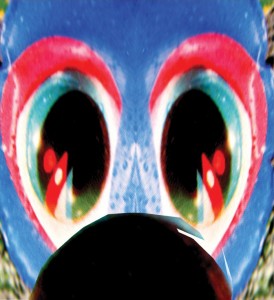 And I quote: "The Hills Have Thighs features a mini-retrospective of Michael Kloss." I guess this solo show was curated by his friends, and consists of drawings, sculptures, and collages. I couldn't find his website to see what his other work looks like, but sounds like it could be interesting. I'm really interested in this show because it's in a new space, and I love checking out new spaces. They have a tendency to pop up, then go flat, so often that I try to make it as soon as I hear about one. And I quote, yet again: "THE HILLS ESTHETIC CENTER is a newly developed artist-run space located in the depths of Chicago's Western Corridor…[c]ome watch as we throw our proverbial hat (beer hat) into the ring of Chicago Alt-spaces." Sound intriguing? I think so. Or maybe it's just the mention of the beer hat. Either way, I'm giving the Hills a go.
The Hills Esthetic Center is located at 128 N. Campbell. Reception is Friday from 6-10pm.
5. Quarterly #1: MinimumixaM at Pentagon Gallery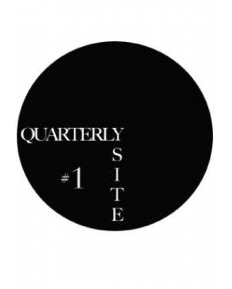 You get an odd sort of two'fer on this one. The show is being held at Pentagon Gallery, a (relatively) new space down in Pilsen. It is not, however, the Pentagon crew curating the show; they're are still busy working on their new exhibition Tragically Hip Kids on a Couch (just kidding, mostly). No, it is actually the newest incarnation of 12 Galleries taking over the Pentagon Gallery space for their first quarterly exhibition (guess they're more like 4 Galleries now). The lineup of artists looks promisingly good: Eric Fleischauer, Chris Edwards, Xavier Jimenez, and Liz Nielsen. And with three curators (Nicholas Cueva, Dan Gunn, Heather Mekkelson) I can only assume the show's been gone over with a fine tooth comb. But you know what happens when you assume… But really, this is probably going to be an awesome show, I'll see ya'll there.
Pentagon Gallery is located at 961 West 19th St. Reception is Saturday 7-10pm.
Stephanie Burke was born in Nevada City, CA in 1984. She received her BA in Studio Art and Anthropology from Humboldt State University in 2007, and her MFA in Photography from The School of the Art Institute of Chicago in 2009. Currently she makes work, teaches photography at Wilbur Wright College and Hyde Park Art Center, writes for Bad at Sports and works as Managing Editor for Art Talk Chicago and Chicago Art Magazine.When not making, teaching, looking at, or writing about art, she enjoys running around in the woods, drinking beer by bonfires, and target shooting.
Latest posts by stephanieburke (see all)