Hello again ya'll! Hope you had fun last weekend without me. I had a grand old time down in Missouri with the Zombie Squad crew, kicking it in Manbath, going to the range, and floating down and annoying low but none the less relaxing river. Oh yeah, and Motel 6 and Waffle House, the perfect bracket for any camping/road trip. I came back planning on hitting the ground running, only to find most things shuttered for the weekend of patriotic fireworks. Bummer. There are still a few things happening this weekend, but because of the small source pool, this week you get a Top 3, ranter than a Top 5. Next weekend looks like it might be busy, so perhaps I'll be able to over compensate then. But, until that time, here's the picks…
1. The Things I Once Owned at Ebersmoore
Photographs of objects formerly owned by the artist, Gregg Evans (or at least that's how the story goes). Jeroen Nelemans will also be showing work under the title "Pilfer Your Land."
Ebersmoore is located at 213 N. Morgan, #3C. Reception is Friday from 6-9pm.
2. This is Still Life at Monument 2
Contemporary artists working with the still life. The exhibition is curated by Ghazal Hashemi, and includes the work of Wilford Barrington, Amir H. Fallah, Ian Hawk, Bruce Ingram, Sandy Kim, Jason Lazarus, Maximilian Schubert, Dylan Walker, and Harley David Young.
Monument 2 is located at 2007 N. Point St. Reception is Saturday from 2-6pm.
3. Contemplations & …Sorry I Didn't Have Time to Google You at Julius Caesar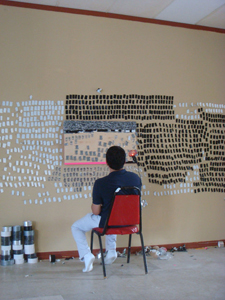 Two shows for the price of one: Gil Rocha's Contemplations, and …Sorry I Didn't Have Time to Google You, a group show featuring the work of David Jourdan, Lisa Holzer, Kitty Kraus, Chiara Minchio, and Stefan Schuster. And, and, and, a good place to have a 4th BBQ!
Julius Caesar is located at 3311 W. Carroll Ave. Reception/BBQ Sunday from 4-7pm.
Stephanie Burke was born in Nevada City, CA in 1984. She received her BA in Studio Art and Anthropology from Humboldt State University in 2007, and her MFA in Photography from The School of the Art Institute of Chicago in 2009. Currently she makes work, teaches photography at Wilbur Wright College and Hyde Park Art Center, writes for Bad at Sports and works as Managing Editor for Art Talk Chicago and Chicago Art Magazine.When not making, teaching, looking at, or writing about art, she enjoys running around in the woods, drinking beer by bonfires, and target shooting.
Latest posts by stephanieburke (see all)