1. Containers at DIG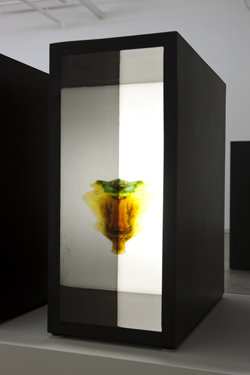 A space over by Monument 2, DIG looks like it could be a new place we all might want to start going to. As usual, it is hard to tell from the photos what the actual work will be (when it's 3-D), but the light box Rorschach thing going on looks interesting. What to see a "new" place (new to me at least)? Head on over.
DIG is located at 2003 N Point #3. Reception is Friday from 6-9pm.
2. Anatomy in the Gallery at The International Museum of Surgical Science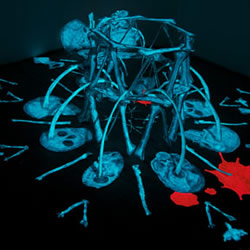 Now, I will admit a "conflict of interest" here (if you believe in those), I am good friends with Annie Heckman. Now that the formalities are taken care of, HOLY CRAP, these shows are going to be awesome. I've known Annie's work for a while now, and saw Lauren Kalman's work at, I think, SOFA. Heckman's exhibit is called "You thought that you were alone but I caught your bullet just in time," and Kalman's is called "Blooms, Efflorescence, and Other Dermatological Embellishments." Glow-in-the-dark bones and skin rashes made of precious stones? How can you go wrong?
The International Museum of Surgical Science is located at 1524 N. Lake Shore Dr. Reception is Friday from 5-8pm.
3. Twelve Hundred Miles Down the Street at Linda Warren Gallery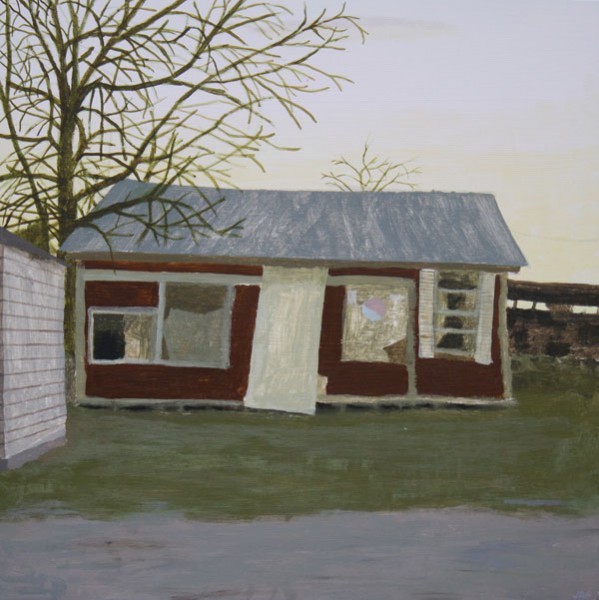 I think I'm attracted to this work because it reminds me of my own photography, in a weird, round-about way. Depressed places rendered formally for contemplation, I guess you could say. I am generally a lover of Linda Warren's place, and this looks like another good show for the books. All the paintings in Twelve Hundred Miles are by Joseph Noderer. Michael Stillion will be showing in the Project Space.
Linda Warren Gallery is located at 1052 W. Fulton Market St. Reception is Friday from 6-9pm.
4. Carnival of Curiosity at Holy Mountain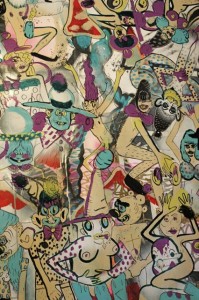 You ever heard of Holy Mountain? I hadn't until earlier this week. For those of you new to it, Holy Mountain is a women-owned BDSM Studio in the West Loop. And I quote, "Carnival of Curiosity is intended to bring a new audience into an environment they might not otherwise explore, and to showcase the talents of a collective of Pro Dominas who already contribute to Chicago's artistic zeitgeist in their own ways." Sounds like a party to me!
Holy Mountain is located at 120 N. Green. Reception is Friday from 6-9pm.
5. The Strange Case of William Mumler at The Renaissance Society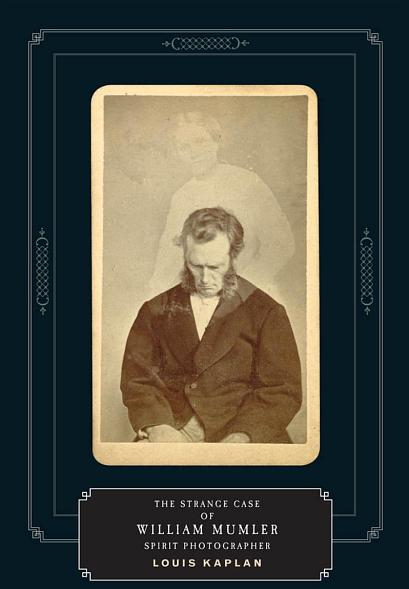 Spirit photography is rad! Now Louis Kaplan from the University of Toronto will be discussing the work of one the most famous, William Mumler. And I quote, "As Kaplan's case study of William Mumler shows, faith in the truth-telling abilities of photography has always been accompanied by skepticism about the objectivity of the photographer. Beginning in the early 1860s, Mumler became famous in Boston and New York for taking "spirit photographs" in which ghostly images of departed family members or friends appear in portraits of living subjects." Hooray for ghosts!
The Renaissance Society is located at 5811 S. Ellis Ave. The lecture will be held Sunday in Swift Hall, Room 106 at 2pm.
Stephanie Burke was born in Nevada City, CA in 1984. She received her BA in Studio Art and Anthropology from Humboldt State University in 2007, and her MFA in Photography from The School of the Art Institute of Chicago in 2009. Currently she makes work, teaches photography at Wilbur Wright College and Hyde Park Art Center, writes for Bad at Sports and works as Managing Editor for Art Talk Chicago and Chicago Art Magazine.When not making, teaching, looking at, or writing about art, she enjoys running around in the woods, drinking beer by bonfires, and target shooting.
Latest posts by stephanieburke (see all)