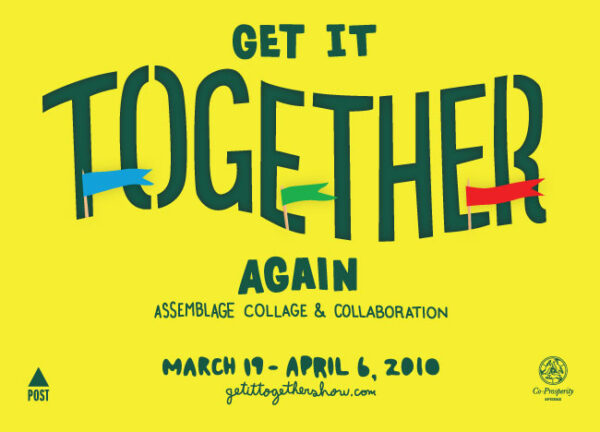 Get out your scissors and glue: Chad Kouri of the Post Family and Ed Marszewski of Co-Prosperity Sphere are unveiling a new incarnation of last summer's "Get It Together" exhibition – it opens this Friday, March 19 from 5-7 and it sounds like so much fun! Full details below; make sure to scroll down to the bottom for a really beautiful video of last summer's "Get It Together" event. I love all the Chicago art hipsters sitting around, totally engrossed in their cutting and pasting, just like scrapbookin' mamas!! Super sweet.
After the success of "Get It Together" in July 2009 at Co-Prosperity Sphere we are running the show again at Chicago Tourism Center Gallery with an extended lineup as well as new work from our old friends.

"Get it Together Again," is an exhibition of assemblage, collage, and collaborative work by local, national, and international artists. Organized by Chad Kouri of the Post Family and Ed Marszewski of Co-Prosperity Sphere, the exhibition includes over 25 works on paper, mixed media, and installations including a grocery store with hand drawn products made out of paper. Gallery visitors of all ages can sit down at a collage table and create their own work. Materials such as magazines, scissors and glue will be provided or bring your own.

The Show includes works by: Adrianne Goodrich, Alex Valentine, Anthony Zinonos, Ben Speckmann, Chris Roberson, Chris Schreck, Doug Shaeffer, Emily Clayton, Greg Lamarche, Hisham Akira Bharoocha, James Harry Ewert Jr, Joe Tallarico, Jordan Martins, Mario Wagner, Matt Nichols, Matthew Rich, Michael Pajon, Netherland, Peter Skvara, Richard Smith, Rod Hunting, Ron Ewert, Ryan Duggan, Sarah Jeziorski, Scott Massey, Stephen Eichhorn, and Tom Torluemke.

Chicago Tourism Center Gallery
72 E. Randolph Street
Opening reception March 19th, 5 – 7pm

Show runs March 19 – April 6, 2010
Thursday, March 25 at 12:15pm, artist talk
Thursday, April 1 at 12:15pm, hands on collage workshop

HOURS: Monday to Thursday, 8am – 7pm; Friday, 8am to 6pm; Saturday, 9am -6pm;
and Sunday, 10am – 6pm. Admission to the gallery and exhibition events is free.
Get It Together from LanjersOaken on Vimeo.
Claudine Isé has worked in the field of contemporary art as a writer and curator for the past decade, and currently serves as the Editor of the Art21 Blog. Claudine regularly writes for Artforum.com and Chicago magazine, and has also worked as an art critic for the Los Angeles Times. Before moving to Chicago in 2008, she worked at the Wexner Center in Columbus, OH as associate curator of exhibitions, and at the Hammer Museum in Los Angeles as assistant curator of contemporary art, where she curated a number of Hammer Projects. She has Ph.D. in Film, Literature and Culture from the University of Southern California.
Latest posts by Claudine Isé (see all)