Artist Blake Fall-Conroy is in the process of making a sculpture that enables everyone to earn minimum wage (or rather, the wage set by the state of New York–Illinois law guarantees a minimum wage of $8.00 per hour for workers 18 years of age and older). From Conroy's website:
"The minimum wage machine allows anybody to work for minimum wage. Turning the crank will yield one penny every 5.04 seconds, for $7.15 an hour (NY state minimum wage). If the participant stops turning the crank, they stop receiving money. The machine's mechanism and electronics are powered by the hand crank, and pennies are stored in a plexiglas box."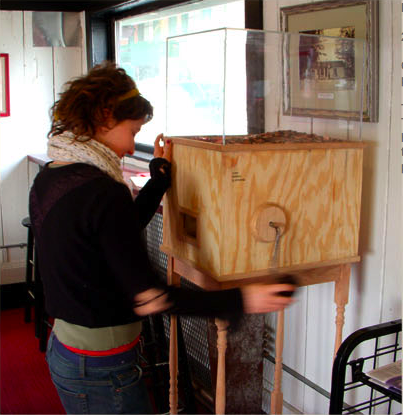 Via New Art via Tomorrow Museum.
Claudine Isé has worked in the field of contemporary art as a writer and curator for the past decade, and currently serves as the Editor of the Art21 Blog. Claudine regularly writes for Artforum.com and Chicago magazine, and has also worked as an art critic for the Los Angeles Times. Before moving to Chicago in 2008, she worked at the Wexner Center in Columbus, OH as associate curator of exhibitions, and at the Hammer Museum in Los Angeles as assistant curator of contemporary art, where she curated a number of Hammer Projects. She has Ph.D. in Film, Literature and Culture from the University of Southern California.
Latest posts by Claudine Isé (see all)