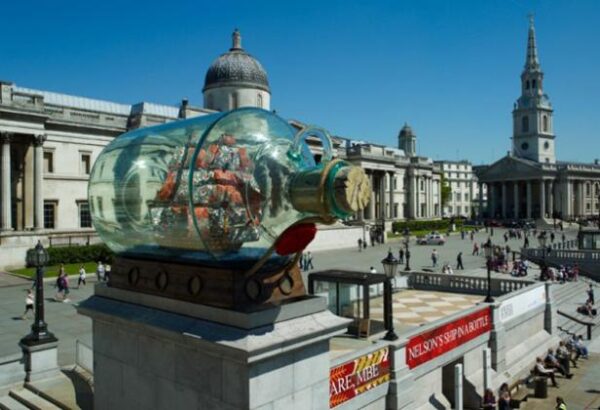 The fourth plinth in London's Trafalgar square has been on our radar for a while and I am sure will continue to be so since the British government plans on using it as a compliment to the Turner prize or so by using it as a soapbox to debate and showcase contemporary art.
The current work  that is on display at the plinth, Yinka Shonibare's Nelson's Ship in a Bottle is slotted to be taken down in 2012 and the fight to see who gets the spot in time for the Olympics has begun. Here is a quick rundown of the shortlist via UK's The Independent (my money is on Katharina Fritsch) :
Michael Elmgreen and Ingar Dragset A sombre wit underpins the serious nature of work by the Scandanavian couple who have collaborated since they met in 1995. They have made work in memory of gay victims of the Nazi regime and, in 2005, they built a Prada boutique in the middle of the Texan desert. Whatever their proposal for Trafalgar Square, we hope they don't lose their sense of humour.
Mariele Neudecker German born, 45-year-old Neudecker made her name with sculptures of landscapes, placed inside glass vitrines. Self-contained worlds, that come out of the Romantic tradition in art – although her work is anything but traditional. She used the cry of seagulls on London's Millenium bridge in 2008. And she sank a boat and a house underwater that question our relationship with the environment.
Allora & Calzadilla Allora and Calzadilla are an artist couple who live in Puerto Rico. Their work is usually political and they have a strong reputation in the UK. At the Serpentine gallery in 2007 they made a large chamber, like a war bunker, and inside musicians played military music. They work in many mediums, using film, sound, sculpture, performance and photography.
Hew Locke Locke's work explores colonial themes in an exuberant kind of pop art. He has played with ideas about the British royal family. Princess Diana became a voodoo doll and he covered a figure of the Queen Mother with skulls. He critiques the past, looking at how our world interrelates: from African wars to empire, pop culture to Shakespeare.
Katharina Fritsch Like the Surrealists, Fritsch is known for artwork that makes the familiar appear strange and uncanny. Born in Germany, Fritsch has represented her country at the Venice Biennale and had major exhibitions at London museums. Giant rats and monochrome men wearing suits appear in her work, which have popular as well as critical appeal. She is a mature artist and her proposal will be polished and spectacular.
Brian Griffiths An eccentric sense of adventure runs through sculptures by Griffiths. A graduate of Goldsmiths college, the British artist has used old furniture to construct an elaborate wooden gyspy caravan. His work plays with myth as well as history and his sculpture comes from an imaginary world as fantastical as a child's. No doubt, his proposal for the Fourth Plinth will be made from old junk but his idea, we hope, will contain a touch of magic.
Also Museum of Contemporary Art Cleveland (MOCA) has been greenlit to start construction on it's $150-plus million development project in University Circle later this year and be completed in 2012. Read More Here
We talked a while back about the Guggenheim's Youtube partnership entitled "Play" where artists were invited to submit their videos to possibly be part of a juried exhibition later this year in every one of their museums. Well that jury list has been announced: Takashi Murakami, Ryan McGinley, Douglas Gordon, Marilyn Minter and Shirin Neshat, artists known for their work in a variety of mediums; Stefan Sagmeister, a graphic designer; Laurie Anderson, the performance artist, musician and filmmaker; the music group Animal Collective; and the filmmakers Darren Aronofsky and Apichatpong Weerasethakul. Read More Here
Sorry but I have a hard time calling something revolutionary or defying categorization when it's been done for over two decades in general and over a decade by Michigan Avenue Ad houses. Its akin to saying an artist doing Matrix style bullet time video leaves you speechless if it was done in 2040. Film is sequential still frames that create motion, find something to write about NPR that is actually Art if you want to be breathless NPR not a music video esque work done in After Effects. It's only slightly annoying when Artists speak of their work as revolutionary, interdisciplinary or an exciting hybrid that redefines a genre since it's hard to promote as a artist but it is greatly annoying when a publication ruberstamps such hyperbole as true. I know it's the NPR blog but….. still. Don't Read More Here
Christopher Hudgens is the Operations Manager for BaS and works in various other capacities for other organizations in the Chicago Art & Culture scene. Most recently as Business Operations Manager for the Bridge Art Fair and currently an advocate for all things art & technology.
Latest posts by Christopher (see all)