Typically I would not post something like this but I just could not help myself. If you personally know me or read the blog regularly you probably know that I not only grew up in the Southern California but also posses a lot of SoCal pride. I was not a huge skateboarder  but my sister and I could be found on a board often enough. Our garage housed discarded boards from my familie's childhood. Some with clay wheels and my mom's G&S was still being ridden by my sister until a few years ago when it broke. Anyways, for the past couple of years my sister and I have been sending each other our picks for what board we would like to cruise around on in the summer time and I think I just found the ultimate pick. This morning A Time To Get posted some boards designed by Kevin Skibba. Just look at how fucking awesome these are!  I love that the designs reference Big Daddy Roth and sport Cadillac Wheels. Thalia Surf Shop is selling the boards and has an interview with Kevin.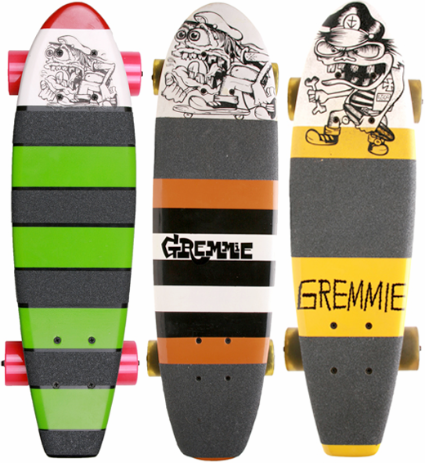 via Thalia Surf Shop:
Can you describe the process that goes into making a board?
The boards have to ride as good as they look. That being said, it usually starts with a shape that I think might work. I'll make a template, then a prototype and see how it rides. If it lags I'll scrap it, if it works then it goes in the lineup. The actual procedure is pretty standard to any other skateboard manufacturer except it's just me making them. I do get a little creative with the paint and finish. The Gremmie image is made of rice paper and some of the grip on the deck is actually sugar I add in the clear coat, so there's still a lot of surf influence to the overall finished product.
What inspires you to go about it that way? In fact, what inspired you in the first place to make Gremmie a real thing?
I think the inspiration comes from years of loving and being around the Southern California surf scene and a strong skateboarding background. I think the actual inspiration to build the boards came a couple of years ago. I spent a couple months working on a boat in Hawaii. Nobody that worked on the boat had cars, everyone got around on a bike or a skate. The kids always gravitated to the longer cruiser boards. To me, they just didn't work well in crowded sidewalk situations. I wanted to turn hard and quick, just go around people like slalom cones and I couldn't do that on the cruiser boards. The response was slow and the boards to me were cumbersome. Don't get me wrong, they have their place, they just didn't work for the style of skating I was after. In the end, the inspiration came from being around a lot more shapers than skateboard builders, so when I first started constructing them they were critiqued pretty hard by some pretty heavy shapers.