The School of the Art Institute kicks off its current Visiting Artists Program with a lecture by Saya Woolfalk tomorrow, Tuesday February 2nd, at 6:00pm. From the Visiting Artist's Program website:
SAIC alumna Saya Woolfalk (MFA 2004) will present her ongoing project No Place, a multimedia, fictional future that reworks tropes of sexual, racial, and gender difference. The characters and stories in Woolfalk's constructed reality evoke travel narratives, science fiction, and the rhetoric of anthropology to investigate human possibilities (and impossibilities). Through diverse forms of installation, video, painting, drawing, performance, and sound, she reflects on human life and its future through configurations of biology, sociality, and the environment. Woolfalk's selected exhibitions include PS1/MoMA; Museum of Contemporary Art, Chicago; Indianapolis Museum of Contemporary Art; Studio Museum in Harlem; and Momenta Art. She has been an artist in residence at Skowhegan, Yaddo, Sculpture Space, and the Studio Museum in Harlem. Presented in collaboration with SAIC Alumni Relations.
Want to bone up on Woolfalk's work prior to the lecture? Here are some links to get you started:
Interview with Saya Woolfalk on Art21 Blog
Saya Woolfalk Artist's Page at Zg Gallery, Chicago
Saya Woolfalk Performs No Place: A Ritual of the Empathic at Performa 09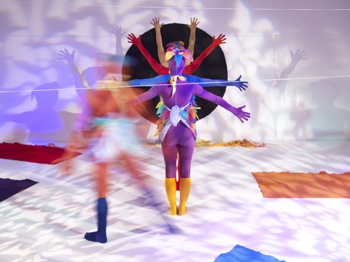 Woolfalk's lecture will be held at the SAIC Columbus Auditorium, 280 S. Columbus Drive.
This round of VAP lectures is especially strong. Don't forget to mark your calendars for these upcoming SAIC Visiting Artist Program lectures (click here for further details):
Doug Aitken, Monday, February 22nd, 6pm
Amy Franceschini, Thursday, March 11, 6pm
Doris Salcedo, Monday, March 15, 6pm
Matt Keegan, Tuesday, April 6, 6pm
Ryan Trecartin, Wednesday, April 14 and Thursday, April 15 at 6pm
Latest posts by Claudine Isé
(see all)