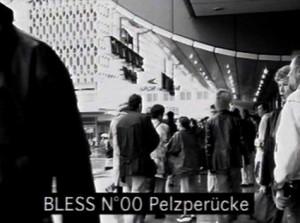 During a recent visit to Los Angeles I picked up the video compilation BLESS: Celebrating 10 Years of Themelessness at Ooga Booga. When I asked Wendy, the shop owner, about the dvd I was told "It's not for people new to Bless. You won't learn more anything about them. It's for the true Bless fan." For a moment I considered whether or not I was a true Bless fan and decided that I was.
Bless is a conceptual fashion house based in Paris and Berlin started by Desiree Heiss and Ines Kaag in 1996. They release products designed to "make the near future worth living for." They make thoughtful garments, jewelry for electronic cables, hanging wardrobe mobiles, and other items intended to be used, lived with, and sometimes discarded.
BLESS: Celebrating 10 Years of Themelessness, released by Bureau des Videos, collects 15 short videos from the Bless archive. Many of the pieces are documentation from the public presentations of their varied collections. In No25, Uniseasoners, as people enter the dining area of a restaurant they are seated by servers wearing Bless clothing. The servers take orders, bring wine, and later bring food. Everything is normal, maybe even boring, except for occasional pauses to highlight elements of the clothing. A scarf turns into a hooded sweater. In another video, No13 Basics, a narrator lets me know that we're in an apartment in Paris where several friends have spent the day together "wearing sweaters, bodysuits, trousers and customized Levi's jeans" as if they were their own.
There is nothing precious about Bless. Bless is a project that presents ideas about living. There is no lifestyle to buy, you must bring your own. As their modest iWeb page says, FITS EVERY STYLE.
Martine Syms is the Director of Golden Age, a project space in Chicago, Illinois dedicated to sharing ideas through exhibitions, performances, and printed matter.
Latest posts by Martine Syms (see all)