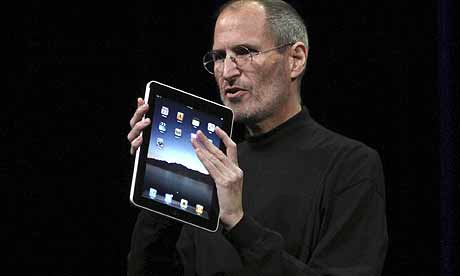 One of my favorite BoingBoing contributors, Cory Doctorow, provides this week's most memorable rant: Why I won't buy an iPad (and think you shouldn't either). I certainly don't agree with everything he says, but it's well-argued. Unfortunately, it doesn't make me want one any less. Doctorow's case for why the new Marvel Comic App for the iPad is just. plain. wrong. is particularly compelling– see the excerpt below, then go read the whole lengthy piece.
"I mean, look at that Marvel app (just look at it). I was a comic-book kid, and I'm a comic-book grownup, and the thing that made comics for me was sharing them. If there was ever a medium that relied on kids swapping their purchases around to build an audience, it was comics. And the used market for comics! It was — and is — huge, and vital. I can't even count how many times I've gone spelunking in the used comic-bins at a great and musty store to find back issues that I'd missed, or sample new titles on the cheap. (It's part of a multigenerational tradition in my family — my mom's father used to take her and her sibs down to Dragon Lady Comics on Queen Street in Toronto every weekend to swap their old comics for credit and get new ones).

So what does Marvel do to "enhance" its comics? They take away the right to give, sell or loan your comics. What an improvement. Way to take the joyous, marvellous sharing and bonding experience of comic reading and turn it into a passive, lonely undertaking that isolates, rather than unites. Nice one, Misney."
Claudine Isé has worked in the field of contemporary art as a writer and curator for the past decade, and currently serves as the Editor of the Art21 Blog. Claudine regularly writes for Artforum.com and Chicago magazine, and has also worked as an art critic for the Los Angeles Times. Before moving to Chicago in 2008, she worked at the Wexner Center in Columbus, OH as associate curator of exhibitions, and at the Hammer Museum in Los Angeles as assistant curator of contemporary art, where she curated a number of Hammer Projects. She has Ph.D. in Film, Literature and Culture from the University of Southern California.
Latest posts by Claudine Isé (see all)