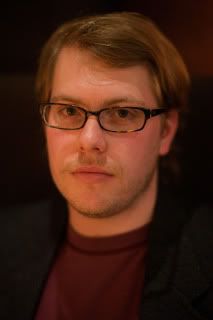 Bad at Sports would like to welcome Nicholas O'Brien as our latest edition to the blog. Many of you will know Nicholas as a co-founder of BUSKER among many other things. Each month he will be discussing New Media work through interviews, editorials, and videos.
Here is a little more about Nicholas:
Nicholas O'Brien is a new media artist, curator/organizer, and academic living and working in Chicago. Since getting his BFA from The School of the Art Institute of Chicago, Nicholas participated in multiple national and international venues including The Museum of Contemporary Art in Chicago, The Xth Biennial in Lyon net art project, Lampo, Tank.tv, and the Centro Multimedia in Mexico City.
He has also curated many screenings and live audio-visual performances within the Chicago area under many different projects including co-founding an alternative artist-run space called BUSKER which operated between 2005 and 2007. Currently, Nicholas is an adjunct faculty in the Department of Interactive Art and Media at Columbia College teaching media theory. More information about his work can be found at doubleunderscore.net
Meg Onli is a visual artist and blogger born and raised in Los Angeles, California. Meg moved to Chicago, Illinois in 2005 where she received a Bachelor in Fine Arts from the School of the Art Institute of Chicago. She has been with the Chicago-based art and culture podcast/blog Bad at Sports since 2006 where she is currently the Associate Producer. She has an unfathomable apatite for documentary films, 60s & 70s performance art, and cute cats. Meg has exhibited work in Los Angeles, Chicago, and New York City. Currently, she is working on a project that documents her steps in recording Motwon's first girl group sensation, the Marvelettes, version of "Where did Our Love Go?"