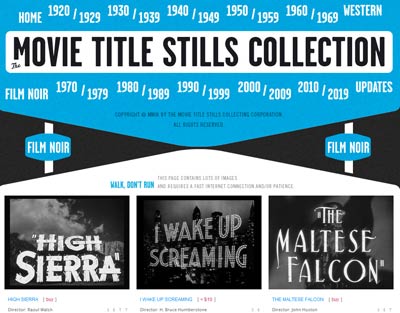 Christian Annyas is a graphic designer and like me a huge cinema buff and has gone about capturing the title card (and in some cases the end title card) for some of the greatest films from 1900-2010 and loaded them into one site.
From film greats like
"The Third Man"
"The Maltese Falcon"
"The Red Shoes"
to more recent works like
"Raging Bull"
"Indiana Jones & The Temple of Doom"
"Twelve Monkeys"
"The Virgin Suicides"
Plus many many more that are even better. It is defenetly worth a check and the only thing missing is the overlook of the masterful mock titles from the Loony Tunes catalog that play homage to these great films & Bruce Tim's even more artful tribute with Batman in the 90's
Christopher Hudgens is the Operations Manager for BaS and works in various other capacities for other organizations in the Chicago Art & Culture scene. Most recently as Business Operations Manager for the Bridge Art Fair and currently an advocate for all things art & technology.
Latest posts by Christopher (see all)