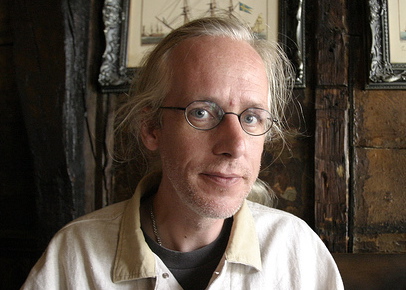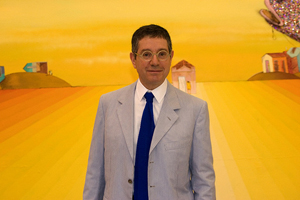 In conjunction with the exhibition Don't Piss on Me and Tell Me it's Raining apexart presents a conversation between Jeffrey Deitch and Carlo McCormick. On the eve of Mr. Deitch's departure from New York, he'll discuss his time and legacy as "one of the most visible, dynamic and controversial players in the New York art world." Full details on the talk below, straight from the source. Keep your eyes on our website for the broadcast of this conversation on an upcoming episode of Bad at Sports' podcast.
Carlo McCormick is a leading New York art writer and a champion of "the downtown scene." He is the author of numerous books, monographs and catalogues on contemporary art and artists, and has lectured and taught extensively at universities and colleges around the United States. His writing has appeared in Aperture, Art in America, Art News, Artforum, Camera Austria, High Times, Spin, Tokion, Vice and countless other magazines. He has curated shows for the Bronx Museum of Art, New York University, the Queens Museum of Art and the Woodstock Center for Photography. McCormick is Senior Editor of PAPER magazine.
Jeffrey Deitch has been a paragon of taste and a fierce proponent of contemporary art and its emergence both in New York City and the world at large. Deitch is a dealer in modern and contemporary art and an art advisor to private and institutional art collectors. He is also an art writer and exhibition organizer, having contributed to Arts, Art in America, Artforum, and numerous other publications, and served as the first American Editor of Flash Art. He received an Art Critic's Fellowship from the National Endowment for the Arts in 1979. Deitch's first important curatorial project was Lives, a 1975 exhibition about artists who used their own lives as an art medium. It was presented in a vacant office building in Tribeca. His most ambitious exhibition was Post Human, which opened at the FAE Musée d'Art Contemporain in Lausanne in June 1992, and travelled to the Castello di Rivoli in Torino, the Deste Foundation in Athens, the Deichtorhallen in Hamburg, and the Israel Museum in Jerusalem. Prior to opening his own art advisory firm in 1988, Mr. Deitch was a Vice President of Citibank where he spent nine years developing and managing the bank's art advisory and art finance businesses. Before joining Citibank, he was the Assistant Director of the John Weber Gallery in New York and then the Curator of the De Cordova Museum in Lincoln, Massachusetts. After a long career in New York, he will start as Director of the Los Angeles MOCA in June 2010.
Please join us.
All events are free and open to the public.
apexart's exhibitions and public programs are supported in part by the Andy Warhol Foundation for the Visual Arts, Carnegie Corporation of New York, Edith C. Blum Foundation, Mary Duke Biddle Foundation, The Greenwich Collection Ltd., The William Talbott Hillman Foundation, and with public funds from the New York City Department of Cultural Affairs and the New York State Council on the Arts.
apexart
291 Church Street, NYC, 10013
t. 212 431 5270
www.apexart.org
Claudine Isé has worked in the field of contemporary art as a writer and curator for the past decade, and currently serves as the Editor of the Art21 Blog. Claudine regularly writes for Artforum.com and Chicago magazine, and has also worked as an art critic for the Los Angeles Times. Before moving to Chicago in 2008, she worked at the Wexner Center in Columbus, OH as associate curator of exhibitions, and at the Hammer Museum in Los Angeles as assistant curator of contemporary art, where she curated a number of Hammer Projects. She has Ph.D. in Film, Literature and Culture from the University of Southern California.
Latest posts by Claudine Isé (see all)