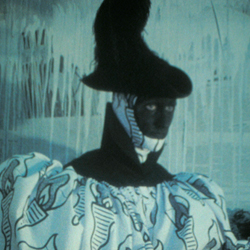 There are a ton of interesting screenings and lectures taking place in Chicago this week, (did anyone catch Andrea Zittel's talk at the MCA Theater on Monday?). Next up: tonight and tomorrow, British experimental filmmaker Emily Wardill will present five short films and her new feature film, Game Keepers Without Game, over two nights of screenings at the Gene Siskel Film Center and the School of the Art Institute of Chicago.
The deets, from the press release: "Wardill's films are brilliant cinematic labyrinths. Visually striking and playfully rigorous, they draw upon an array of sources — underground theater, psychoanalytic case studies, the writings of Friedrich Nietzsche and Jacques Rancière, and even the game logic of Nintendo Wii — to pose fundamental questions about vision, representation, and media and their role in how we come to know ourselves."
Here's the schedule of events:
April 8, 2010 at 6pm: Everything I Tell You Now Is True: The Short Films of Emily Wardill
Conversations at the Edge, Gene Siskel Film Center, 164 N. State Street, Chicago
$10 general admission, $7 students, $4 for students and faculty of the School of the Art Institute, and staff of the Art Institute, $5 Film Center members. Visit www.saic.edu/cateblog and www.siskelfilmcenter.org.
In this special program, Wardill presents five of her 16mm short films, all of which are Chicago premieres: Born Winged Animals And Honey Gatherers Of The Soul (2005, 9 minutes), Basking in What Feels Like 'An Ocean Of Grace' I Soon Realise That I'm Not Looking at It, But Rather I Am It, Recognising Myself (2006, 8 minutes), Ben (2007, 10 minutes), Sick Serena and Dregs and Wreck and Wreck (2007, 10 minutes), and The Diamond (Descartes' Daughter) (2008, 11 minutes).
Wardill will introduce the screening and take questions afterwards. In conjunction with this presentation and in keeping with Conversations at the Edge's commitment to supporting SAIC's curricula, Wardill will also visit several graduate classes in the Department of Film, Video, and New Media during her stay.
Friday, April 9, 2010 at 6pm: Emily Wardill's Game Keepers without Game
Eye & Ear Clinic, School of the Art Institute of Chicago, MacLean Theater
112 S. Michigan Ave #1307. Free and open to the public. Visit www.saic.edu.
Game Keepers Without Game (2009, 87 minutes), the subject of Wardill's solo show at The Show Room in London until late March 2010, takes Pedro Calderón de la Barca's Life is a Dream (La Vida es Suena, 1635) as its starting point. Game Keepers tells the story of Stay, a girl put up for adoption due to her destructive behavior, whose father is trying to bring her back to the family home. Wardill presents us with a melodrama, aping tropes of British soap operas. She casts her characters and objects against a sterile white frame, setting them to a repetitive drum beat soundtrack. People and props do not touch, and objects in particular take on a symbolic form, acting as both status markers and evidence. Acts of violence are emptied of drama, conjuring up stories of the sadistic and antisocial behavior of British youth in inner cities and depressed coastal towns. The film is a long-form continuation of many of Wardill's ongoing themes and strategies: disjointed sound, image, and dialogue; fragmented narrative; stilted action; and provocation of the viewer — all in search of some new, alternate attempt at communication.
The Eye & Ear Clinic is organized by graduate students at the School of the Art Institute of Chicago. This screening is made possible with support from the Department of Film, Video, and New Media, and the Dean's
Office at SAIC.
Claudine Isé has worked in the field of contemporary art as a writer and curator for the past decade, and currently serves as the Editor of the Art21 Blog. Claudine regularly writes for Artforum.com and Chicago magazine, and has also worked as an art critic for the Los Angeles Times. Before moving to Chicago in 2008, she worked at the Wexner Center in Columbus, OH as associate curator of exhibitions, and at the Hammer Museum in Los Angeles as assistant curator of contemporary art, where she curated a number of Hammer Projects. She has Ph.D. in Film, Literature and Culture from the University of Southern California.
Latest posts by Claudine Isé (see all)