download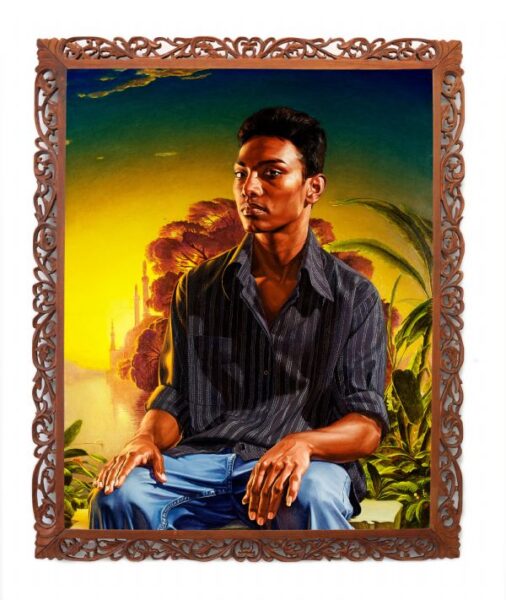 This week: Duncan, Richard and guest co-host Dr. Amy Mooney, Associate Professor of Art History at Columbia College, talk with superstar artist Kehinde Wiley about his work and his exhibition "The World Stage: India-Sri Lanka" which just opened at the Rhona Hoffman Gallery (through October 23, 2010).
The following seemingly outdated bio was lifted from the New Museum of Contemporary Art.
Kehinde Wiley was born in Los Angeles in 1977. He received his BFA in 1999 from the San Francisco Art Institute and graduated from Yale University School of Art two years later. Wiley is viewed as the modern-day heir to a long line of portraitists –Reynolds, Gainsborough, Titian, Tiepolo– from whom he appropriates the symbols and visual language of heroism, power, and opulence in his realistic renderings of urban black men. While referencing specific old master paintings and fusing period elements– French Rococo ornamentation, Islamic architecture, West African textile design– into his portraits, the final works convey a very urban, contemporary aesthetic because of the subjects portrayed and their hip-hop influenced attire. Wiley succeeds in his intent to blur the boundaries between traditional and present-day modes of representation, as he says to "quote historical sources and position young black men within that field of power."
Christopher Hudgens is the Operations Manager for BaS and works in various other capacities for other organizations in the Chicago Art & Culture scene. Most recently as Business Operations Manager for the Bridge Art Fair and currently an advocate for all things art & technology.
Latest posts by Christopher (see all)