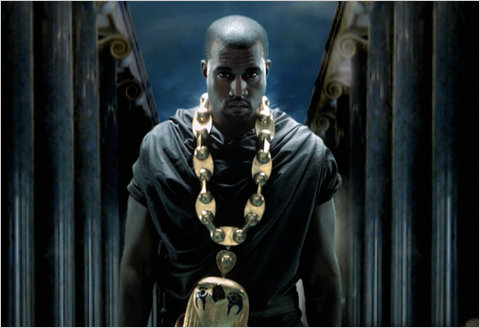 Power
The economy may be turning around again (what is it is now, the third time in a year or fourth?) but the Art world seems to be talking about nothing but death & loss.
First off you have the well publicized and it seems anticipated Kanye West music video for his single "Power" which is being described as "apocalyptic" "dark, personal conflict" & "beautiful death".  With the video directed by artist Marco Brambilla who has a habit of creating work with a strong bent towards monolitic, time lapse laiden video art with a dark dramatic stuttering low light quality it will be interesting to see how it turned out.
For me music videos have been on kind of a artistic hiatis since Chicago's own Mark Romanek moved to feature films. It seemed his departure timed well with the crash of the industry and music videos have been on a healthy but slow DYI recovery since then largely.
Requiem for Kodachrome
Kodak has been singing the executioners song for Kodachrome slide processing for some time but the last roll was made a while back and given to the well known photojournalist and National Geographic regular Steve McCurry. That roll is currently being processed in the sole remaining processing studio Dwayne's Photo Service in Parsons, KS. What will it have on it again no one know but if it is in style with the current visual theme for 2010 it will have a skull in it (skulls have been everywhere since Art Basel Miami Beach, more things change the more they stay the same). Read more here
Ellen Bows Out Of American Idol
I don't watch the show personally but I do know there are two things the art wold in general loves to do. One, bemoan the pointlessness of "Work of Art" on Bravo (as if an art reality competition ever had a hope at quality or legitimacy? seriously?) and Second talking about American Idol (two years ago it was Mad Men but no one seems to remember that show now?). So now that Simon has left Ellen is not reup-ing for a second year. Rumor is J-Lo will be on the table Read more here
That Dark Shadowy Figure Caravaggio Keeps Getting Press
For the last three years Caravaggio (who I admit I do love) keeps getting press touting his mastery and forward thinking when it came to composition and cinematic intimacy now is no different. Read more here
Jewish Art Gallery Puts On Crucifixion Show
[insert outrage here] garnish with 28 works by artists such as Tracey Emin, Duncan Grant, and Lee Miller Read more here
Ansel Adams Estate Fights Man Who Bought Negatives At Yard Sale
The estate of Ansel Adams (Adams' grandson Matthew Adams)Â contests that negatives are almost worthless unless the hand of the artist is used to make prints, so basically by that logic art restoration damages work since even though it continues the outline set by the artist it is not the true hand of the artist. Glad to see Matthew Adams isn't sour or anything. Read more here
Christopher Hudgens is the Operations Manager for BaS and works in various other capacities for other organizations in the Chicago Art & Culture scene. Most recently as Business Operations Manager for the Bridge Art Fair and currently an advocate for all things art & technology.
Latest posts by Christopher (see all)