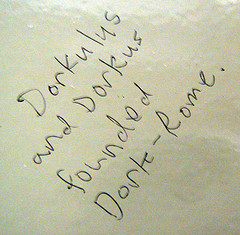 The Chicago Tribune's Live section has a profile today of Quinn Dombrowski, a photographer and University of Chicago grad who has a flickr site, and a self-published book, that captures the astonishing range of graffiti marking the interior of the Regenstein Library. The Trib notes that she has unearthed more than 1700 graffiti markings, some written in Arabic, Chinese, Egyptian hieroglyphics, and even dead languages.
Dombrowski's project is amazing. I know I'm going to be thinking about it all day. Dombrowksi also has a website and a blog with additional details on the project, lots of images, and background musings on her graffiti findings, including her latest post, a really interesting analysis (including pie chart!) on the relatively low rate of homophobic graffiti appearing in the Regenstein Library. (All photographs taken by Quinn Dombrowski).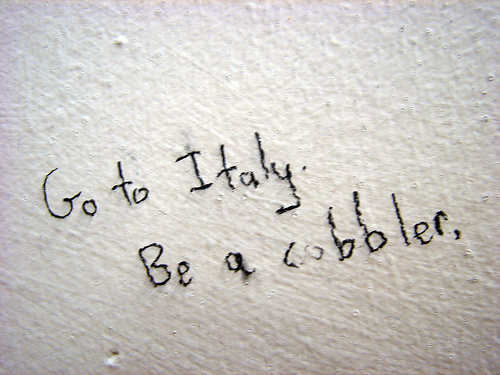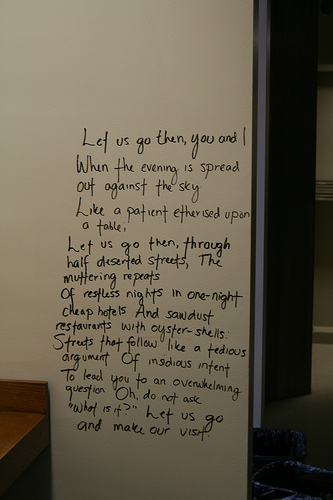 Claudine Isé has worked in the field of contemporary art as a writer and curator for the past decade, and currently serves as the Editor of the Art21 Blog. Claudine regularly writes for Artforum.com and Chicago magazine, and has also worked as an art critic for the Los Angeles Times. Before moving to Chicago in 2008, she worked at the Wexner Center in Columbus, OH as associate curator of exhibitions, and at the Hammer Museum in Los Angeles as assistant curator of contemporary art, where she curated a number of Hammer Projects. She has Ph.D. in Film, Literature and Culture from the University of Southern California.
Latest posts by Claudine Isé (see all)