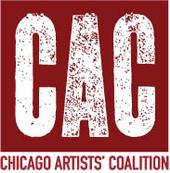 The Chicago Artists Coalition is working to gather information about Business Licenses for artists. It has come to their attention that the issue of whether or not working artists need to obtain a license is rather convoluted and unclear.
Some are told yes, others no.
Also, some artists have received surprise visits from city inspectors and were cited for not having a license.
The CAC is working with a few others and a city Alderman to find out how many artists have run into problems with this issue and gauge what artist's needs are in terms of licensing so that they can work to clear up any confusion.
To do that they need artist to please circulate this short (11 question) survey to for artists to to fill out so that when they go before the Aldermen on July 1st they can have clear survey data on how many
artists have encountered problems and how best to clarify this.
If you have any questions feel free to contact:
Elissa Papendick
Media & Marketing Intern
Chicago Artist's Coalition
Christopher Hudgens is the Operations Manager for BaS and works in various other capacities for other organizations in the Chicago Art & Culture scene. Most recently as Business Operations Manager for the Bridge Art Fair and currently an advocate for all things art & technology.
Latest posts by Christopher (see all)