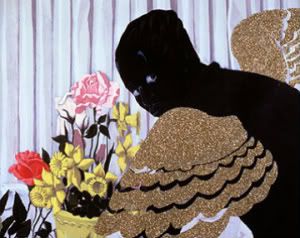 Written and overseen by Meg Onli, our beloved BAS teammate, Black Visual Archive is a terrific new blog/website dedicated to contemporary black and post-black visual culture that launches this week. What's more, the website is designed by another invaluable BAS colleague, Martine Syms, who as you all know also runs Golden Age. I love the crisp look of this site, and the range of subject matter, which promises to be pop-y, eclectic, smart yet fun, too. Right now, Black Visual Archive has a beautifully written review of Kerry James Marshall's exhibition catalog Mementos from his 1998 exhibition at the Renaissance Society in Chicago, which looks at the thematic and conceptual implications of the book's design and content. They've also posted on a performance of Nina Simone's "Feelings" at the Montreau Jazz Festival and the Berry Brother's Fascination' Rythym.  A brief excerpt from "Kerry James Marshall | Mementos" follows:
Historically, a souvenir painting is a literal interpretation of an event, however, instead of painting the march from Selma to Montgomery or a portrait of the Little Rock Nine, Marshall's "Souvenir" paintings all depict the interior of a middle-class household. In Souvenir I, (1997) the home becomes sanctified with the souls of black folk who hover above a couch. Their visages, reproduced with screen-prints, which are a sharp contrast to Marshall's hand, are of deceased men, women and children with angel wings. In gold glitter the phrase "in memory of" is scrawled just below them. Is this our souvenir? The ability to ascend to a higher social status? Are these men and women our post-Movement saints? Powell notes, "one gets the sense that the 'Souvenir' paintings have just as much to do with process of memorializing as they do with the 'idea' or 'theme' of the memorial: painting likeness and building effigies to the one-time mortals-but-now-gods; creating a functioning, commemorative alter in one's home; and constructing a hierarchy of African-American sainthood."
There's much more to come, so check out the site on a regular basis, or subscribe to the RSS feed for more.
Latest posts by Claudine Isé
(see all)