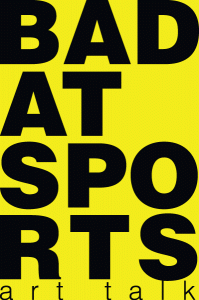 Bad at Sports is coming to apexart in New York, and we're all giggling with excitement like a pack of schoolgirls. As a collective we are organizing a star-studded exhibition that will run from April 7 – March 22nd and we want you to be there and make your presence known! More advance intel to come via the podcast and here on the blog, of course, but we wanted to start banging the drums and lighting the homefires and whatever the hell else one does to get people all rowdy and enthusiastic about what's to come.
The exhibition is titled Don't Piss On Me And Tell Me It's Raining, but feel free to call it the Bad at Sports show. It'll be like the podcast, but in three dimensions (or wait, isn't sound already three dimensions?? This is why I failed that Physics of Music class). There will be tons of works submitted by former guests of the show on view, free giveaways, a special talkback section (more info on this soon) and weekly live events of the conversational sort. Don't expect any slabs of honey-drizzled meat, golden cakes, or chocolate Koons sculptures at said happenings, but maybe there will be beer?
Here are the deets, hot off the keyboard – stay tuned for info on specific events as they are finalized.
"Part archive, part arts journalism, part in-depth conversation and part record-breaking run-on sentence: the Chicago-based collective Bad at Sports is many things at once, but it is first and foremost a collaboration between artists and their communities. Don't Piss On Me And Tell Me It's Raining provides a visual counterpart to the extensive audio archive that Bad at Sports has amassed over the past five years and 300+ hours of its weekly podcast. Hundreds of small-scale drawings, texts, and other physical objects made specifically for this exhibition will be on view, each piece produced by the artists and other cultural figures who have appeared on the show over the past five years. Numerous live interviews, panel discussions and performances, many of which will be recorded for future broadcasts, will also take place in the gallery on a twice-weekly basis. In addition, a special "talkback" section of the exhibition asks viewers to direct their own questions to art world personages, thereby enabling audiences to take part in the sprawling, provocative, irreverent and timely conversation that is Bad at Sports."
Claudine Isé has worked in the field of contemporary art as a writer and curator for the past decade, and currently serves as the Editor of the Art21 Blog. Claudine regularly writes for Artforum.com and Chicago magazine, and has also worked as an art critic for the Los Angeles Times. Before moving to Chicago in 2008, she worked at the Wexner Center in Columbus, OH as associate curator of exhibitions, and at the Hammer Museum in Los Angeles as assistant curator of contemporary art, where she curated a number of Hammer Projects. She has Ph.D. in Film, Literature and Culture from the University of Southern California.
Latest posts by Claudine Isé (see all)