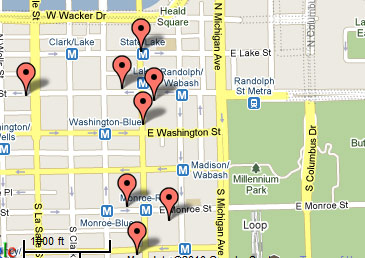 From October 15th, through October 29th, the Chicago Artists' Coalition and the Chicago Loop Alliance will transform the historic Loop neighborhood into an interactive, multi-venue public art museum. Art Loop Open invites the public to "Visit, View & Vote!" at over a dozen venues throughout the Loop and not only admire local artists' works but also interact with them and each other via cutting edge technology and public programming.
With the addition of Tony Tasset's installation in the loop, the Pop-Up Art Inititive currently underway & the upcoming Art Loop Open it is good to see the Chicago Loop Alliance getting some traction and note for their work, here is hoping it can survive as annual events.
ALO wants all of Chicago's diverse and talented visual artists to apply, potentially win $50,000 in prizes and have the opportunity to reach new and coveted audiences from around the world.
"The work of Chicago artists is our city's tapestry. Art Loop Open will be a unique opportunity for visitors and residents to celebrate our rich art, showcase our amazing downtown artistic attraction, and offer a platform for local artist to shine. Art Loop Open will be a interactive, cultural experience bringing everyone together to enjoy and admire great works of art."
-Richard M. Daley, Mayor of Chicago
Christopher Hudgens is the Operations Manager for BaS and works in various other capacities for other organizations in the Chicago Art & Culture scene. Most recently as Business Operations Manager for the Bridge Art Fair and currently an advocate for all things art & technology.
Latest posts by Christopher (see all)