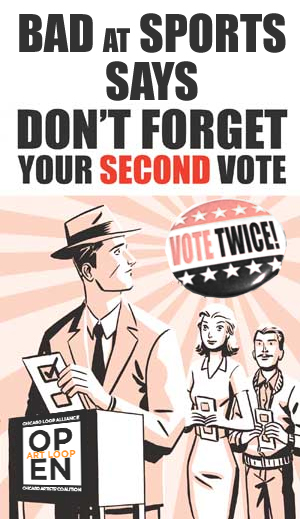 The Chicago Loop Alliance has announced their short list of 10 artists to win the $50,000 in cash prizes for the inagural Art Loop Open.
All of the Artists on the short list have done amazing work and many that were not included deserved to make the final but this isn't really about awards its about engaging the public. To that end Bad at Sports has officially come off the bench to support one canidate to win and that would be Steve Hamann's History of 'Bad at Sports' (Work on Paper).
I know reading that you might think we are biased but that could not be further from the truth; I hate Steve Hamann. He is an annoying artist that has been the bane of my existance for longer then I would like to admit so when I ask you to vote 6 or 7 or even 10 times for his work at theWit Hotel (hell get a room and just vote everytime you cross the lobby) you will know that I do so on the merits of the work and no other reason. How great must that work be for me to ask the thousands of readers of Bad at Sports to reward a man that reads dead baby jokes in nursery wards. I may not love the artist but I salute the art.
Now having established that we will all vote for Steve "The Ego from this point out" Hamann to win lets spend some time on the great artists that should get second and third. They are hard working artists the lot of them and deserve more attention then even this is giving them, starting with a old friend Bernard Williams.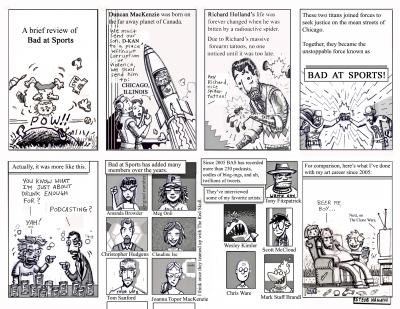 Bernard Williams: Buffalo Chart (Installation)
Block 37
Catherine Jacobi: Forgetting (Sculpture)
Block 37
Daniel Lavitt: Till We Meet Again (Sculpture)
Chicago French Market – MetraMarket
Giovanni Arce: Bush (Painting)
Block 37
John Dempsey: "The Great American Landscape" (Painting)
Macy's
Joseph Ivacic: Staying Connected (Sculpture)
Hotel Burnham
Lauren Brescia: Surprise… (Installation)
Block 37
Len Upin: Helen (Work on Paper)
theWit Hotel
Yva Neal: WAKA: Wall Altat of Kismet Abundance (Installation)
W Chicago – City Center
Latest posts by Christopher
(see all)