1. Leap of Faith at Architrouve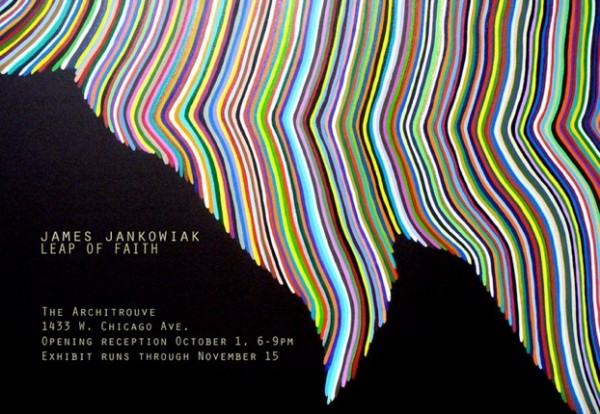 Paintings by Chicago artist James Jankowiak.
Architrouve is located at 1433 W. Chicago Ave. Reception is Friday from 6-9pm.
2. GLI.TC/H run.time & real.time at Transistor and The Nightingale

Work by Theodore Darst, Ben Baker Smith, Cole Pierce, Omar Mashal, Clint Ens, Morgan Higby Flowers, Antonio Roberts, Evan Meaney, Richard O'Sullivan, BotBorg, Aaron Zarzutzki, Morgan Higby Flowers, Jeff Donaldson, Vadim Sprikut Anton Marini, jon.satrom, and Jason Soliday (Friday) and work by Jodie Mack, Theodore Darst, Nick Briz, Alexander Stewart, Clint Ens, Nick Salvatore, Johnny Rogers, Jon Satrom, James Connolly, Ben Pearson, Jimmy Joe Roche, Karl Klomp, JB Mabe, LJ Frezza, James Connolly & Eric Pellegrino, Tamas Kemenczy & Mark Beasley, Jeronimo Barbosa, Andrew Bucksbarg, Ben Baker-Smith & Evan Kühl, and StAllio! (Saturday)
Transistor is located at 5045 N Clark St and will host Part 1 Friday from 8-11:30pm. The Nightingale is located at 1084 N Milwaukee Ave and will host Part 2 Saturday from 7-10pm.
3. Future Shock at The Green Lantern Gallery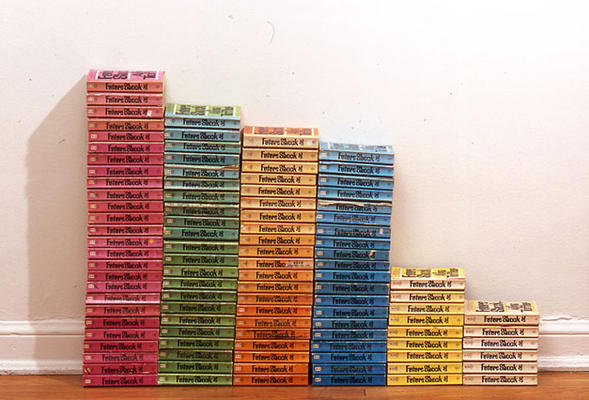 Work by Brandon Alvendia, Conrad Bakker, Edie Fake, The Library of Radiant Optimism, Red76, People Powered, and Randall Szott.
Green Lantern Gallery is located at 2542 W. Chicago Ave. Reception is Friday from 7-10pm.
4. Wild Card at Johalla Projects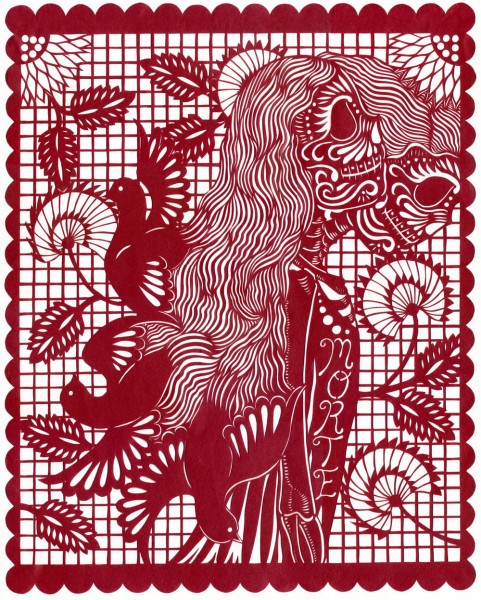 Tarot cards by Bridey Bowen, Alex Chitty, David D'Andrea, Rob Doran, Ryan Duggan, Ron Ewert, Heather Gabel, Horsebites, Myles Smutney Hyde, Damara Kaminecki, Jenny Kendler, Rick Leech, Monique Ligons, Alexis Mackenzie, Roy Miranda, Kyle James Morrison, Steak Mtn, Rachel Peacock, Bird Reynolds, Cristy Roads, J.L. Schnabel, and David Snedden.
Johalla Projects is located at 1561 N. Milwaukee Ave. Reception is Friday from 7-11pm.
5. Neither Here Nor There at Helicon Hall Gallery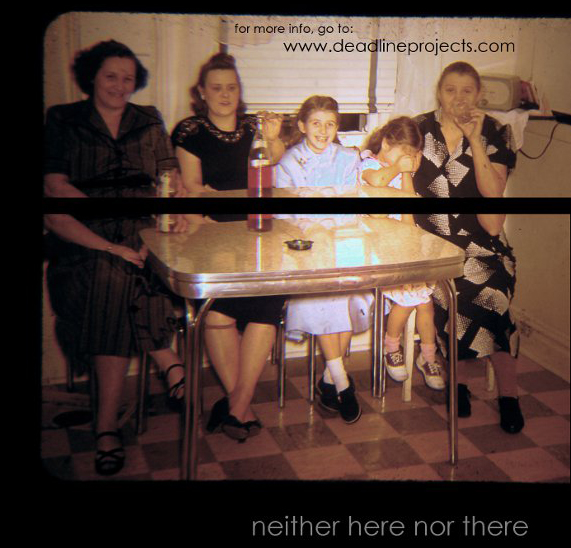 Work by James Beckman, Arielle Bielak, Sher Dionisio, nikki hollander, Damien James, Robert Jeffries, Blake Parish Lewis, Lauryn Lewis, Vivien Park, Sarah Park, Holly Sabin, and Shawn Stucky.
Helicon Hall Gallery is located at 1542 N. Milwaukee, 2nd floor. Reception is Saturday from 6-11pm.
---
Some great upcoming programming planned around Chicago Artist's Month that I wanted to bring to your attention. This weekend, Intuit: The Center for Intuitive and Outsider Art will present Henry Darger at Home (and) at Work, a program comprising two multi-disciplinary events about process, studio practice, and creativity in conjunction with Chicago Artists Month. The events start with a panel that includes some fantastic Chicago writers, and finish several weeks later with….a PUPPET SHOW. Awesome. You'll find all the details below….
Finding inspiration in the Henry Darger Room Collection and the texts and imagery Darger crafted within it, Intuit has collaborated with the Chicago Underground Library (CUL) and The Anatomy Collective (TAC) to examine the relationship between writing, art-making and the creative process.
In collaboration with the Chicago Underground Library, Contemporary Authors and the Artistic Process, a panel discussion of authors followed by a bookmaking project with the audience, will take place on Saturday, October 2 from 11:00am – 1:00pm. In collaboration with The Anatomy Collective, Henry Darger's Life (&) Work, a puppet show based on the life and work of Henry Darger and the collaborative text will take place on Thursday, October 28 from  6:00pm – 8:00pm. Both events take place at Intuit, 756 N. Milwaukee, Chicago, IL
Contemporary Authors and the Artistic Process
Saturday, October 2, 2010, 11am -1pm
$10; includes admission to Intuit's galleries
A panel discussion featuring authors John Bresland, Stephanie Kuehnert, Audrey Niffenegger and Bayo Ojikutu will explore their multi-disciplinary sources of inspiration, the role biography plays in their work and how their studio contextualizes their practice. The 45-minute discussion will be moderated by Nell Taylor, Executive Director of Chicago Underground Library, with an introduction by Thea Liberty Nichols, Intuit's Study Center Manager, and panelists will have books available for purchase.
Immediately following the panel, Intuit and CUL invite you to participate in a collaborative bookmaking project in homage to Darger's life's work, the masterpiece, In the Realms of the Unreal… Audience members are encouraged to bring in an item (a photo, artwork, magazine or newspaper clipping, etc.) or use items made available to create the text and imagery for a book that, once collaged together, will be housed within CUL's collection and serve as the inspiration for the puppet show Henry Darger's Life (&) Work on October 28.
Henry Darger's Life (&) Work
Thursday, October 28, 6pm-8pm
Admission is by donation
Following Contemporary Authors and the Artistic Process, Theater group The Anatomy Collective will have just over three weeks to develop an exclusive puppet show that blends the tracings, clippings, ephemera and writing generated and collected by Darger with the book collectively created by attendees of CUL's panel. The resultant performance will showcase TAC's talents and resourcefulness in a whimsical epic that re-interprets Darger's (home) life and (studio) work and the readers and viewers it continues to inspire.
For further information about this exhibition or to inquire about other Intuit programs, please contact Intuit at intuit@art.org or 312.243.9088.
---
---
editors note: I foolishly didn't record my own audio in this interview, so for the first half there are titles that guide viewers through questions
I was incredibly fortunate to arrange a tinychat with the organizers of the upcoming gli.ct/h conference/festival/symposium/gathering. Nick Briz (who unfortunately is not in the video), Evan Meaney, Rosa Menkman, and Jon Satrom all joined me in a conversation about their combined administrative efforts to see this great event evolve into an internationally recognized and talked-about event taking place across Chicago from September 29th to October 3rd.
We discuss the expanding taxonomy of glitch culture – a growth that has emerged partially as a result of it's rapid commercialization – and how this rhetoric has changed historically through cinema and video. I emphasize the fact that the quad of organizers of this festival have contributed much to the glitch community – both in their work and in their academic writings/presentations. Although each maker has distinguished his/her presence and has reinforced the importance of engaging the medium "with caution" (as Nick Briz states), they all show an incredible affability and desire to investigate the inherent playfulness of the genre.
The organizers have done a very delicate job of being able to balance the openness and generosity that the community offers to incoming makers with/against the "closed-ness" of traditional festivals. By including web-specific projects like the t.rashb.in and a (as yet not published) glitch-wiki, the festival aims to create a celebration of curiosity by inviting people that otherwise would not want to participate in data bending and error-aesthetics. The gli.tc/h blog has instigated a great on-going conversation between artists and organizers about the difficulties of defining the genre, and the benefits found in letting these precise definitions continue to be incomplete.
We go on to discuss some aspects of the theoretical implications of how glitch moves throughout history, and how this process challenges modernist tendencies to want to preserve and archive. Evan proposes that because he is not engaging glitches as a live medium, and is instead investigating the process that occurs somewhere between translation of data (sets), that his work is a direct interruption of archival sentiments. These hic-ups offer insight into how we customarily shape our data into precious documents/objects, as opposed to transient, ever-recycling, source material for creativity.
Jon brings up how the historicization of the material fits into the surprising amount of analog submissions the festival received. We discuss how this shift back and forth between digital and analog methods might speak to a larger cultural phenomenon taking place within technological circles (namely technological fetishism through simulated nostalgia). Rosa questions whether this trend is some kind of romantic hearkening-back to better days in order to prioritize certain types of practices over others. However, I think that the link between the two lies in curiosity and the hacking inclination of people invested in glitch. In other words, returning to analog is a means of continuing the exploration.
As a closer to our conversation Nick and I discuss how his work provides tutorials for processing the limitations of certain digital formats. Our traditional graphical interaction with digital artifacts is not sufficient enough for complete data-immersion, and Nick suggests that the hacking through these codecs is equally an aesthetic and political gesture. Jon chimes in and comments that sharing this ethos in a group together is something that he is incredibly excited about. Evan restates this enthusiasm by discussing how the diversity of the group's stance on this medium will be mirrored by the great work and conversations that will be found at gli.tc/h over the weekend.
To find a complete schedule, including venues, directions, and other exciting links, go here.
---
Our latest post is up over at art:21 blog. This week, we look at a few of the gallery exhibitions that have opened in Chicago over the past month. A brief teaser below:
Traditionally, fall is the time when galleries launch their new slate of exhibitions after a relatively slow-paced couple of summer months. Galleries tend to highlight some of the most prominent artists on their roster around this time, but it's also common to use the Fall slot to introduce promising new up-and-comers. In Chicago, at least, all the hoopla around the fall openings (many of which took place on a single night several weeks ago) can feel a lot like a high school pep rally: the anticipatory fall preview lists and gallery guides, the minutely detailed gallery crawl maps and the inevitable "best of" Tweets that follow are ways of rousing ourselves from the complacencies of summer in order to get psyched for the upcoming art season.

All hype notwithstanding, fall invariably works its magic on me. I struggle with lazy gallery-going during the summer (and, let's be honest here, sometimes during springtime too) yet feel a sense of urgency about seeing everything once September rolls around. I'm pleased to report that my efforts have been richly rewarded this season. There are so many interesting shows, and quite a few really excellent ones, taking place in Chicago right now there simply isn't space to do justice to all of them here. Let's start with exhibitions by two artists who were recently interviewed on Bad at Sports's podcast. Kehinde Wiley, on view through October 23 at Rhona Hoffman Gallery, presented the latest iteration of his ongoing project World Stage: a series of portraits of young men of color from various cities around the world.  Here, we find Wiley focusing on anonymous men from New Delhi, Mumbai and Sri Lanka, as opposed to the well-known rappers and athletes that had occasionally peopled his portraits in the past. (Read the post in its entirety here).
---