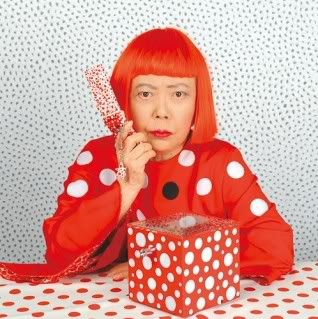 The New Artist People Series focuses on six contemporary Japanese artists; giving insight to their practice and a wider scope to art occurring in Japan. For their second installment they document the eccentric life of eighty year-old avant-garde artist/poet Yayoi Kasuma entitled Yayoi Kusama: I Love Me. Truth be told, I am not generally a very big fan of Kasuma and have only experienced her work twice in person; one being her permanent installation at the Mattress Factory in Pittsburgh and once at the Tate Modern in London.
Shot over the course of a year and a half in and around 2006 we follow Kasuma as she creates her monumental series Love Forever. Consisting of fifty paintings Kasuma puts most of her efforts into completing the series and often works her self to exhaustion. I have never been much of a fan of the art as a vessel for the artist approach but for the first time could buy it when Kasuma accounts her bouts with depression and suicide while keeping an active studio practice. We do not hear very much of her personal life and only a little of her childhood, which included following her adulterous father around town to having her paintings destroyed by her vindictive mother, but, it is unavoidable not to notice Kasuma's own infatuation with her own work/self. It appears that Kasuma loves herself.
One aspect that struck me was the thought of originality. It has been a long time since I had thought of the idea of originality or being an original but the idea came up several times in the film. Kasuma herself describes herself as "an original" and often compares herself to other artists both of her time and now. When looking through some magazine articles on her work (this appears to be a favorite past time of hers) she asks her studio assistant how her and Japanese artist Takashi Murakami compare. She asks, "My works are so much better don't you think? It's so obvious." Kasuma later finds herself on Murakami's comedy show which I must say might be the cutest dance sequences I have seen in a long time. When asked who her influences have been she says that she has none but that Jackson Pollock is good and that Picasso was not bad. Her deadpan delivery of such grandiose statements somehow makes Kasuma ever more endearing. In the documentary we catch her at times when she is rather frail but, when in the public eye she dons her brightly colored wigs and plays the eccentric grandmother of contemporary Japanese art.
I have been trying to think of the best way to describe Kasuma for the past couple of days. If one was to only listen to the audio from this documentary it would be easy to describe her as egotistical. But, I feel uneasy describing her that way. If she had been a younger artist or even an artist such as Jeff Koons it would be easy to dismiss her constant rants about how great she is. Instead it creates a complex balance between Kasuma the artist and Kasuma the person. I would probably guess that she would not separate the two but it is hard to ignore the several suicide attempts referenced throughout the film. If Kasuma truly loved herself it would be hard to imagine her taking her own life. Instead the viewer is left with more questions about her personal life but a deeper appreciation of a pioneering female Japanese artist.
For more information on the New People Artist Series or to purchase Yayoi Kasuma I Love Me please check out the New People Artist Series site.