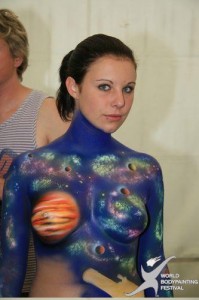 The World Bodypainting Festival is almost here and there is still time to get your tickets to Seeboden, Austria.
From their website:
"Since 1998 Europe's most colourful event has taken place every year in Seeboden, Austria.
The "World Bodypainting Festival" is the biggest art event in the bodypainting theme and thousands of visitors admire the wonderful work of the participants.
Aritsts from 40 nations worldwide come to this unique event and put body art into the mountain and lake scenery. "
"The fantasy ball "BodyCircus" is the main attraction in the festival week side events.
On the 15th July the medieval castle Sommeregg will be turned into a magical and mystical surrounding.
The visitors show up in fantasy costumes combined with bodypainting, decoration and masks up to extreme make up and fantasy fashion. "
More can be read at their site.
Latest posts by Richard Holland (see all)