Not if gallery director Mary Antonakos and her staff and crew of volunteers can help it. But there's no question that I Space–the gallery of the College of Fine and Applied Arts at the University of Illinois at Urbana-Champaign (UIUC)– is facing an uphill battle over the coming months if it wants to maintain not only its top-notch arts, design and architecture programming but its physical presence in Chicago as well. As was reported in the Chicago Tribune a few weeks ago (and examined in more detail in this story in the News-Gazette, available only via paid access to the archives), I Space no longer has the funds to retain its gorgeous, pedestrian and wheelchair-friendly exhibition space in the River North gallery district. And it isn't about the high cost of rent. When I spoke with Antonakos by phone today to get an update on the gallery's situation, she stressed that their landlord has been working steadily with the gallery to help them continue their tenancy. Rather, the problem stems from an all-too familiar cause: a drop in the University's endowment over the past few years that has made it unable to fund the gallery any further, coupled with the loss of private foundation support that had provided much of the gallery's funding in the past. Compounding matters further is the fact that, until recently, the gallery was in-between development staff, leaving Antonakos without anyone to spearhead major fundraising efforts.
Antonakos characterizes I space's current situation as "dire, but hopeful." She plans to work with her new development person to fundamentally change the way that I space raises money. "We'll be doing a lot more outreach" to alumni and other potential donors, Antonakos told me, along with events like auctions and other fundraisers that I space has never held in the past. She'll also rely heavily on volunteer marketing staff to move the gallery's publicity efforts from print to online sources like I Space's webpage and Facebook group, which will help eliminate print and postage costs associated with announcement mailings. By necessity, the amply illustrated catalogues and brochures that accompany most I Space exhibitions are likely to be cut from future shows, at least for the time being.
Antonakos says that until December, the gallery's programming schedule–which launches September 11th with the opening of the Bonnie Fortune-curated "Every Body: visual resistance in feminist health movements, 1969-2009" alongside The Museum of Contemporary Phenomena's Glue Factory, a Broadside project addressing the fear of aging, followed in October/November by exhibitions by Erik M Hemingway and Allison M Warren and November/December by Rojer Hubeli and Julie Larsen–is solid and not at risk of cancellation. After that, the gallery's future remains unclear. It's terrifying to think that I space might not be around after December–and remember, we're not just talking about the gallery's access to River Front real estate. The entire program is threatened.
The "good news," if you can call it that, is this: despite what you may think, this is not a case where finding one big funder is the gallery's only hope for survival (although obviously, that would be nice). When I asked Antonakos if there was anything individuals could do to help, I expected her to say "not much." Instead, she mentioned excitedly that the gallery had just received a $100 donation via their website, and emphasized that these kinds of smaller-level contributions "are fantastic…that will work for us!" We can also support I space by becoming members, says Antonakas. Not only does membership help fund operations, but it also helps keeps audiences connected to what's happening with I space programming during a time when ads and other print publicity will need to be drastically scaled back.
Though Antonakas admitted to sometimes feeling "sick with worry" about the possibility of the gallery's closing, she remains upbeat and ready to for the challenges ahead. "I'm very hopeful that things will change," she told me. "It's just going to take a lot of hard work and we'll need help." Surrounded by the sometimes explicit female imagery from the Every Body exhibition that's currently being installed, Antonakos said laughingly, "with all these fantastic vaginas around you can't be too depressed!" Could Mary Antonakos be any cooler? I really don't think so.
If you're interested in joining I space or making a donation, please visit their support page on the Website. You can also keep up with news on the gallery's funding situation by joining the I space Facebook group here.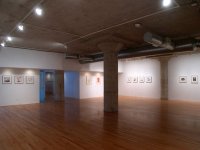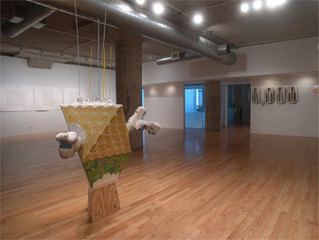 Claudine Isé has worked in the field of contemporary art as a writer and curator for the past decade, and currently serves as the Editor of the Art21 Blog. Claudine regularly writes for Artforum.com and Chicago magazine, and has also worked as an art critic for the Los Angeles Times. Before moving to Chicago in 2008, she worked at the Wexner Center in Columbus, OH as associate curator of exhibitions, and at the Hammer Museum in Los Angeles as assistant curator of contemporary art, where she curated a number of Hammer Projects. She has Ph.D. in Film, Literature and Culture from the University of Southern California.
Latest posts by Claudine Isé (see all)