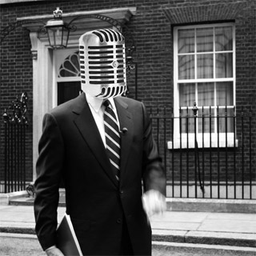 Heard any good Sound Art lately? I sure haven't. I did, however, download a pretty amazing iPhone app today, and it's made me wonder if the rise of augmented reality apps like this one will ultimately signal the end of institutionalized (i.e. gallery-bound) sound art as we've known it. RjDj incorporates the sounds of your current environment into its aural landscapes cum musical compositions, which aren't exclusively musical in nature.
The idea behind RjDj is that different musicians or artists create different "Scenes," some of which respond to your physical interactions with the iPhone device while others react to aural stimuli or to the relative speed of your body moving through space. Some are calming, others rev you up. The possibilities, as they say, are virtually endless. (Scenes are available for download on the RjDj website; some are free, some cost a few bucks, so artists who choose to sell their Scene stand to make a bit of cash).
But even beyond the crass monetary potential, the unprecedented degree of interactivity that augmented reality sound apps like RjDj offer the artist who works with sound, along with its relative ease of distribution and extreme portability, has the ability to radically reinvigorate (if not reinvent) sound art, which has been a pretty moribund art form for awhile now. Take, for example, Chicago Phonography's recent performance at the MCA (part of the Museum's Here/Not There performance series). Although I liked the collective's incorporation of Chicago city sounds into an ambient aural landscape, it was a largely passive experience, for the audience anyway. I'm not sure how much we got out of listening to a sound collage of Chicago city traffic, etc. when we could (and did) experience pretty much the same thing–with added layers of sight and smell–as soon as we walked out of the MCA's doors.
But if Chicago Phonography's performance were rejiggered a bit and distributed as an augmented reality app (and who knows — maybe they've already done something like this) think how different our experience of their project would have been. Instead of sitting in a museum watching a bunch of guys staring down at their laptops and PDAs we could have gone out and roamed the streets of Chicago ourselves, our eyes, ears, hands and feet jamming with and co-creating Scenes that these artists set up for us. Everyone's experience of the performance would be slightly different (as it always is, of course, but this would concretize those differences) and yet there would still be an underlying core that everyone shared.
RjDj also gives users the ability to record the Scene they're listening to, then upload and share it with others. Again, imagine the difference if, after listening to an augmented reality sound art piece, everyone returned to the original meeting space and shared their different "audio takes" of the experience with one another.
Of course, not every artist wants their work to be interactive. But there is something inherently subjective and interactive about sound art to begin with that seems to demand at least some degree of excursion into what augmented reality has to offer.
Visit RjDj's website here. I first read about this app via Bruce Sterling's always wonderful, and always just-a-little-over-my-head, Beyond the Beyond.
Claudine Isé has worked in the field of contemporary art as a writer and curator for the past decade, and currently serves as the Editor of the Art21 Blog. Claudine regularly writes for Artforum.com and Chicago magazine, and has also worked as an art critic for the Los Angeles Times. Before moving to Chicago in 2008, she worked at the Wexner Center in Columbus, OH as associate curator of exhibitions, and at the Hammer Museum in Los Angeles as assistant curator of contemporary art, where she curated a number of Hammer Projects. She has Ph.D. in Film, Literature and Culture from the University of Southern California.
Latest posts by Claudine Isé (see all)