Thursday
Albert Oehlen: A Vanguard With Decorum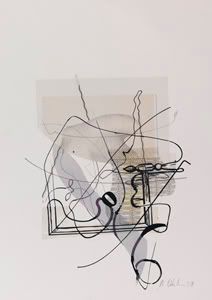 Opening!
May 14 5-9pm
May 14-June 27, 2009
Corbett vs Dempsey
1120 N. Ashland
Chicago, IL 60622
"This show will unveil Oehlen's stunning new series under the banner A Vanguard with Decorum. The exhibition will include 15 intimate, graceful drawing-collages on paper, a huge drawing based on the title of the show, and a spectacular new painting. Clearly related in their reduced palette and graphic quality to the computer works, these new pieces introduce an unforeseen modernist architecture while amping up the looping, curvaceous, linear intensity." via the website
Friday
Manifest Urban Arts festival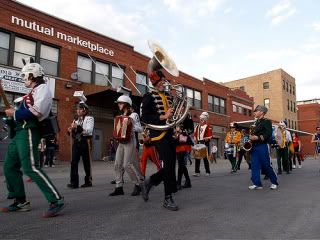 Various locations, between Roosevelt and Congress and State and Michigan. Map it here.
11am-10pm
Circus punk marching band Mucca Pazza kicks off the event at 640 S Wabash Ave at noon!
"Experience Manifest. Columbia College Chicago's urban arts festival celebrates the work of seniors and graduate students from every department on campus. Manifest 2009 will feature an artwalk & sale, music on four stages, screenings, readings, live radio, Web casts, the TICTOC Performance Art Festival, the Transmission art car exhibition, Spectacle Fortuna's parade of creativity." via the website
Check out the insane schedule of music, workshops, performances and exhibitions here. Get a pdf version of the schedule here.
Saturday
Weiner Takes All: A Dogumentary
Chicago premier!
Friday, May 15, 6:15 pm
Saturday, May 16, 5:45 pm
Monday, May 18, 8:15 pm
Gene Siskel Film Center
164 North State Street
Chicago, Illinois 60601
"The little-known world of wiener-dog racing is investigated with humor and charm in a film that appears to have (ahem) legs, based on the ecstatic audience response generated by its numerous festival screenings around the U.S." via the Gene Siskel website
You can check out the trailer here.
Grand opening of the Art Insitute's Modern Wing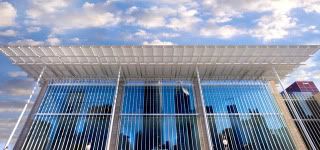 Free admission May 16-22
Grand opening May 16, 9am-5pm
Art Institute of Chicago
111 S Michigan Ave
Chicago, IL
"Celebrate the Modern Wing's public unveiling with AIC on Saturday from 9 a.m. – 5 p.m. Good times include a dedication with architect Renzo Piano at 9 a.m., a ribbon-cutting ceremony at 10 a.m., and live music/dancing from acts like Swing Gitan, Maxwell Street Klezmer Band, and Hubbard Street Dance Chicago. The grand opening exhibit is Cy Twombly's "Natural World", which will be on display through September 13 at The Abbott Galleries-the Modern Wing's special exhibition space located on the first floor." via the chicagoist
Latest posts by laurenvallone
(see all)