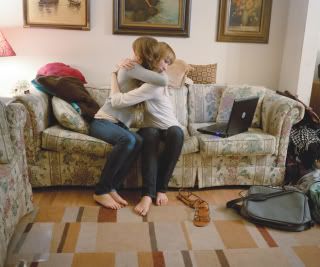 image: Sara Condo, 2009
School of the Art Institute of Chicago
Spring Undergraduate Exhibition
Sullivan Galleries
36 South Wabash 7th floor
March 21-April 3
Opening reception: Friday, March 20, 7-10pm
via the School of the Art Institute of Chicago
Nearly 230 SAIC students completing undergraduate degrees this spring exhibit their innovative work. The School of the Art Institute promotes crossing disciplines and challenging received assumptions, and the results of this approach are showcased in this exhibition.
For more information please visit the site
Devening Projects + Editions
"Matthew Rich: Blind Spot"
3039 West Carroll
Chicago, IL 60612
12-6 sat and by appt.
Show runs thru April 1st
From the gallery: "Matthew Rich locates the work in his exhibition Blind Spot, between the color, surface and pictoriality of painting and the physicality of sculptural objects. Using complex compositional structures and assembly practices that make the building process transparent, his painted works on paper draw attention to materiality while contextually activating site and space. The work in Blind Spot is also concerned with the idea that perceptual clarity in a visual structure can be an elusive and slippery pursuit. Like an optical blind spot, Rich's work suggests that obscurity and deflection are as conceptually necessary to his work as edge, color and surface are to the form. Matthew Rich lives in Boston and received his MFA from the School of the Art Institute of Chicago."
Roots & Culture Gallery
1034 N MILWAUKEE
CHICAGO, IL 60622
Last chance to see it is this weekend; it closes March 21st!
"The End of Analog"
Featuring Alexander Stewart + George Monteleone, Robert Snowden + Carson Salter, Todd Simeone, Jon Satrom, Rebecca Gordon, Brandon Alvendia
"The conclusion of analog television broadcasting in the U.S. can be understood as heralding the arrival of the digital era. The End of Analog is an exhibition that marks this historic transition with an exploration of technology's shifting significance on our culture, as well as on individuals. The shift from analog to digital opens up a space of uncertainty regarding the status of physical objects and bodies, leading us to ask: What is materiality in the digital age? The artists in this show prefigure the post-analog landscape, creating objects and images that explore this looming question from multiple angles."
Curated by Eric Fleischauer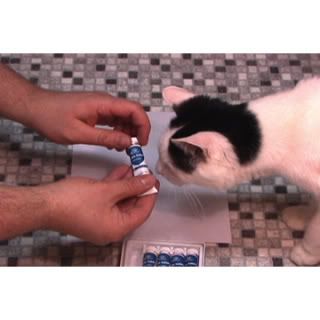 image: Erik Wenzel, Cat Painting, 2008 . digital video
65GRAND
Erik Wenzel: Belief in Doubt in Painting
1378 W Grand Ave.
Chicago, IL 60622
Last chance to see it is this weekend, it closes March 21st.
From the gallery's press release:
"Erik Wenzel's multi-media installations are meditations on the act of painting and its relative worth.
A critic of some stature in his own right, Wenzel characterizes his work as both smart and stupid. One could also add the pairing serious and silly to the list, and his grouping of white canvas boards ringing a white room, with KLF's album The White Room thumping away in the background, initiates the blurring of boundaries between these sets of dichotomies.
Meg Onli is a visual artist and blogger born and raised in Los Angeles, California. Meg moved to Chicago, Illinois in 2005 where she received a Bachelor in Fine Arts from the School of the Art Institute of Chicago. She has been with the Chicago-based art and culture podcast/blog Bad at Sports since 2006 where she is currently the Associate Producer. She has an unfathomable apatite for documentary films, 60s & 70s performance art, and cute cats. Meg has exhibited work in Los Angeles, Chicago, and New York City. Currently, she is working on a project that documents her steps in recording Motwon's first girl group sensation, the Marvelettes, version of "Where did Our Love Go?"