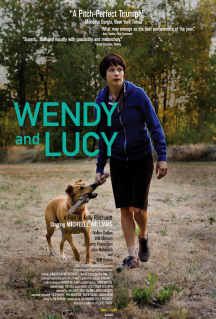 On Sunday I went to Doc Films to check out Kelly Reichardt's ("Old Joy", "River of Grass") latest film "Wendy and Lucy". The film is only 120 minutes. In that time we wander through a Pacific Northwest town as Wendy (Michelle Williams) attempts to find her dog, fix her car, and continue her way to Alaska. I went into the film thinking of it as a classic road trip movie. When I left I felt like the film was much more about the struggles that people face when interacting with strangers.
Both the film and Williams have received a lot of critical acclaim. I found it easy to believe the situations that Wendy faced and the amount of strength the character had to gather in order to make it through the 3 days that we see. I also liked the ambiguity of the previous circumstances that led her to where she is. As a character Wendy is rather solemn, for obvious reasons, while Lucy, her golden dog with floppy ears, appears to be one of the few things that actually holds her together.
The plot is a little sparse which I think gives Williams the opportunity to shine. One of the more pivotal scenes in the film is when a friendly security guard hands Wendy a wad of money and insists that she takes it. Once he leaves, its hard not to feel the devastating blow that what had looked like a lot of money was actually only $7.
A. O. Scott summed up the poignancy of the film, "But underneath this plain narrative surface – or rather, resting on it the way a smooth stone rests in your palm – is a lucid and melancholy inquiry into the current state of American society. Much as "Old Joy" turned a simple encounter between two longtime friends into a meditation on manhood and responsibility at a time of war and political confusion, so does "Wendy and Lucy" find, in one woman's partly self-created hard luck, an intimation of more widespread hard times ahead."
Wendy and Lucy is available today, May 5th on dvd.
Meg Onli is a visual artist and blogger born and raised in Los Angeles, California. Meg moved to Chicago, Illinois in 2005 where she received a Bachelor in Fine Arts from the School of the Art Institute of Chicago. She has been with the Chicago-based art and culture podcast/blog Bad at Sports since 2006 where she is currently the Associate Producer. She has an unfathomable apatite for documentary films, 60s & 70s performance art, and cute cats. Meg has exhibited work in Los Angeles, Chicago, and New York City. Currently, she is working on a project that documents her steps in recording Motwon's first girl group sensation, the Marvelettes, version of "Where did Our Love Go?"