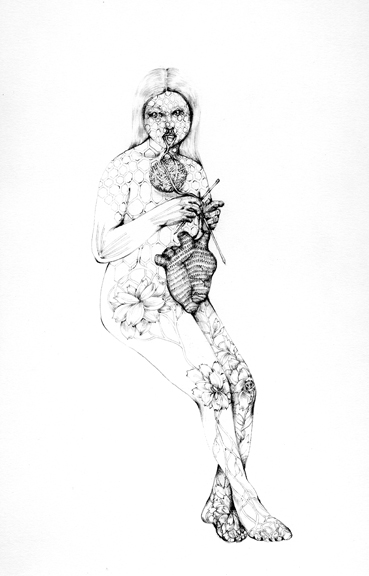 A few stories, blog posts, and interesting discussions in Chicago and beyond that are on my mind this week.
**Image credit: Shannon Keller, Knitter. Keller's work is currently on view at Show Cave in L.A. (via The World's Best Ever).
*CAA Study finds over-reliance on part-time faculty in American higher education.
*New York Times looks at how artists are adjusting to economic hardship.
*Edward Winkleman asks his readers why the view that art is 'unmasculine' still persists?
*Chicago artist and illustrator Lauren Nassef's "A Drawing a Day" still going strong.
*Joanne Mattera bites back after receiving a cease and desist letter warning her not to write about vanity galleries (a.k.a. 'pay to show' schemes).
*The architecture of 'evil lairs' at BLDGBLOG (via C-Monster). Makes me long for the days I still had time to play videogames.
*Chicagoist's report on the Society for News Design's conference and discussions about what's happening in the Chicago journalism scene. Very interesting write-up here, including follow-up comments.
*"The practice of art gets the criticism it deserves"–Great piece on how the internet is changing critics and art criticism by John Haber.
*Another good read on the above topic: "Arts Writing and 'The New Thing'" at Peripheral Vision. (Meg has also twittered numerous of-the-moment links on the topic of arts journalism this past week, make sure to check those out too).
That's all for now. I'm off to see Several Silences at The Renaissance Society.
Claudine Isé has worked in the field of contemporary art as a writer and curator for the past decade, and currently serves as the Editor of the Art21 Blog. Claudine regularly writes for Artforum.com and Chicago magazine, and has also worked as an art critic for the Los Angeles Times. Before moving to Chicago in 2008, she worked at the Wexner Center in Columbus, OH as associate curator of exhibitions, and at the Hammer Museum in Los Angeles as assistant curator of contemporary art, where she curated a number of Hammer Projects. She has Ph.D. in Film, Literature and Culture from the University of Southern California.
Latest posts by Claudine Isé (see all)