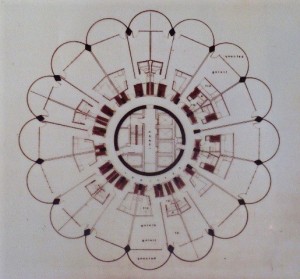 Here's what's caught my eye since last time we did this….
*Why not take Aderall? (Chicago Weekly).
*Forget the death of print–the revival of cassette tape is well underway.
*Joyce Owens tells President Obama to give living artists a shot at the White House.
*In second round of layoffs, MOCA cuts Robert Hollister, its director of registration and collections (Culture Monster).
*Muralist Frank Romero sues Caltrans over mural washout (Culture Monster, again).
*David Lynch launches online Interview project (via Boing Boing).
*New Chicago journal The Point wants you to read articles. Long ones. Printed on paper. Yeah I know! Crazy f&%ks. (Chicago Reader).
*Curator Jeffrey Grove to leave High Museum for Dallas Museum of Art (UnBeige).
*In the nick of time, Scope Basel announces new location (Art in America).
*A really interesting assessment of the etsy craft aesthetic on the artblog.
(above image credit: Bertrand Goldberg Associates. Marina City South Elevation, ca. 1962. "Marina City" on view at ArchiTech Gallery from June 5-August 29, 2009).
Claudine Isé has worked in the field of contemporary art as a writer and curator for the past decade, and currently serves as the Editor of the Art21 Blog. Claudine regularly writes for Artforum.com and Chicago magazine, and has also worked as an art critic for the Los Angeles Times. Before moving to Chicago in 2008, she worked at the Wexner Center in Columbus, OH as associate curator of exhibitions, and at the Hammer Museum in Los Angeles as assistant curator of contemporary art, where she curated a number of Hammer Projects. She has Ph.D. in Film, Literature and Culture from the University of Southern California.
Latest posts by Claudine Isé (see all)