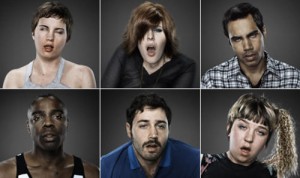 Special Art PrOn Edition!!
*Visitors to the Art Institute have a jaywalking problem (Chicago Tribune).
*Getty Research Institute to close Bibliography on the History of Art (BHA, IBA) (via CAA news).
*NEA Survey indicates arts audiences getting older, scarcer (er, more scarce) (CAA News).
* Top ten best Star Wars architecture. The comparisons to real-life buildings are fascinating. (via Culture Monster).
*Shady deal: Orange County Museum of Art sells much of its plein air painting collection to a private collector. Read about it at Culture Monster and Modern Art Notes.
*I like to watch: Robbie Cooper's Immersion: Porn (via boingboing).
*More pr0n: Russian Art Collective Voina (WAR) stages controversial exhibition (via boingboing).
*Even more pr0n!!: Highlights from the World Air Sex Championships (The XX Factor).
*Students design exhibitions that get people to talk to each other (talk! as in, 'in person'!) (via Tomorrow Museum).
*The drawings of Chicago artist Deb Sokolow featured on Beautiful/Decay.
*You are what you Tweet: Twitter Psychology Profiling (via Avant Chicago).
*Writer Dave Eggers tells those bummed about loss of print to buck up.
*Justin Wolfe at songsaboutbuildingsandfood covers Freebird, and it's lovely. (Thanks to Art Fag City for linking to this blog a few weeks back — I've been hooked ever since).
**(Image Credit: Robbie Cooper's Immersion: Porn).
Claudine Isé has worked in the field of contemporary art as a writer and curator for the past decade, and currently serves as the Editor of the Art21 Blog. Claudine regularly writes for Artforum.com and Chicago magazine, and has also worked as an art critic for the Los Angeles Times. Before moving to Chicago in 2008, she worked at the Wexner Center in Columbus, OH as associate curator of exhibitions, and at the Hammer Museum in Los Angeles as assistant curator of contemporary art, where she curated a number of Hammer Projects. She has Ph.D. in Film, Literature and Culture from the University of Southern California.
Latest posts by Claudine Isé (see all)