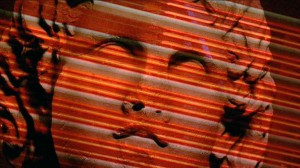 Something tells me that when Jerry Saltz said, "It's a cool school, admired by jargon-wielding academics who write barely readable rhetoric explaining why looking at next to nothing is good for you." He meant something like this:
From the Press Release for Transfers:
Untitled, a 16-millimeter film first screened as part of an exhibition at the Friedrich Petzel Gallery in 2006, emerged from Price's observation that abstraction was rarely seen in film or video presented in art-world settings, despite a strong tradition in experimental film in general. Price purchased a 6-second video loop from a company that makes "empty" background images for corporate use, then added color effects, looped it, and transferred it to film, yielding a hypnotic, emptied-out work that looks back to structuralist and early film experiments even as it presents an image of degraded and détourned digital junk, threatening at each instant to collapse into compression artifacts.

Perhaps out of stubbornness, I still plan to attend.  Although it's an intriguing proposition that we'll see less of this type of work rather than more.
Transfers: Three Works by

Seth

Price
Tuesday, April 14, 2009 at 7:30pm

220 36th Street, 5th Floor
Brooklyn, New York
Tim Ridlen is an artist and writer who has recently relocated to New York City from Chicago.He is the Senior Editor of Boot Print, a publication out of St. Louis, MO, and has recently written reviews for New City in Chicago.He is currently a New York City correspondent for Bad at Sports.More information is available at www.timridlen.info.
Latest posts by Tim Ridlen (see all)