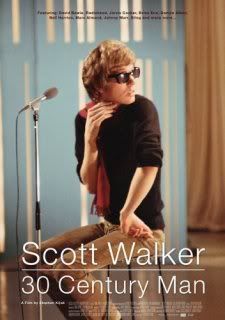 If you read the blog regularly enough you might have noticed that I almost only write about documentary films. Documentaries or epically long films (I enjoy sitting still in a dark room for long periods of time.) With that being said I am also not that much of a music buff. The majority of my music consists of Motown, Beach Boys, and 60s girl groups. So, when it came to watching Scott Walker 30 Century man, which is making its Chicago premier this July 4th weekend, I was a little lost. If you have never heard of Scott Walker, born Scott Engel, you are not alone. Walker, formerly of the 60s sensation The Walker Brothers, is considered by some to be one of the "greatest composers and poets of our time." The film, directed by Stephen Kijak, known for his documentary CINEMANIA which follows five New York City Film buffs, chronicles Scott Walkers early fame and self imposed exile from the music industry.
The film begins with the trio the Walker Bothers, none of which are related or named Walker, who for a brief moment were huge teen idols in Britain. Know for his good lucks and deep voice, Scott Walker became the face of the band and object of adulation from teenage girls. Scott retells the story of being in a car and having it tipped over by fans. He also adds that this is a time before cars had seat belts. Like many bands the Walker Brothers split and Scott beings creating experimental pop music. We hear from fans such as Jarvis Cocker, Radiohead, Goldfrapp, and executive producer of the film David Bowie about the influence Walker's sound has had on their lives. The second half of the film we take a look at the very long process, 10 years, that Walker endures to create a record.
At one point in the film someone compares Walker's music to a Francis Bacon painting. This could have not rung truer. His other-worldly baritone voice combined with his dark and densely layered arrangements feel like the perfect soundtrack to any of Bacon's paintings. We also watch as Walker directs his percussionist how to correctly punch meat. I might not have been won over into listening to any of Walker's music but I might try next time I am looking at Bacon's Figure with Meat at the Art Institute.
For more information on Scott Walker and this 30 Century Man please visit the films website.
Scott Walker | 30 Century Man Playing at the Gene Siskel Film Center.
164 North State Street
Chicago Il 60601
Saturday, July 4, 8:00 pm
Sunday, July 5, 8:00 pm
Thursday, July 9, 8:30 pm
Meg Onli is a visual artist and blogger born and raised in Los Angeles, California. Meg moved to Chicago, Illinois in 2005 where she received a Bachelor in Fine Arts from the School of the Art Institute of Chicago. She has been with the Chicago-based art and culture podcast/blog Bad at Sports since 2006 where she is currently the Associate Producer. She has an unfathomable apatite for documentary films, 60s & 70s performance art, and cute cats. Meg has exhibited work in Los Angeles, Chicago, and New York City. Currently, she is working on a project that documents her steps in recording Motwon's first girl group sensation, the Marvelettes, version of "Where did Our Love Go?"