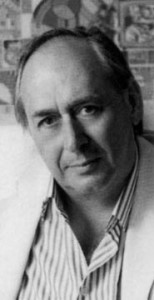 Renowned novelist J.G. Ballard died yesterday at the age of 78, after a lengthy battle with cancer. From the (U.K.'s) Times Online:
"(Ballard's) influence stretched across a modern world that he seemed to see coming years in advance.

His dark, often shocking fiction predicted the melting of the ice caps, the rise of Ronald Reagan, terrorism against tourists and the alienation of a society obsessed with new technology.

As Martin Amis once said of him: "Ballard is quite unlike anyone else; indeed, he seems to address a different – a disused – part of the reader's brain."

The bands Joy Division, Radiohead, The Normal, Klaxons and Buggles all wrote records inspired by Ballard stories.

Empire of the Sun, his best known book, was something of an anomaly for being an apparently straightforward account of his childhood in a Japanese internment camp during the Second World War, where he endured near starvation, death marches and regularly bore witness to death and brutality."
Read his obituary in the New York Times here.
Claudine Isé has worked in the field of contemporary art as a writer and curator for the past decade, and currently serves as the Editor of the Art21 Blog. Claudine regularly writes for Artforum.com and Chicago magazine, and has also worked as an art critic for the Los Angeles Times. Before moving to Chicago in 2008, she worked at the Wexner Center in Columbus, OH as associate curator of exhibitions, and at the Hammer Museum in Los Angeles as assistant curator of contemporary art, where she curated a number of Hammer Projects. She has Ph.D. in Film, Literature and Culture from the University of Southern California.
Latest posts by Claudine Isé (see all)