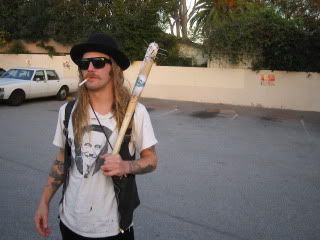 Spotted this news on AFC. It appears that artist Dash Snow died Monday night from a heroin overdose.
via Roberta Smith for the NYT:
"Dash Snow, a promising young New York artist, died Monday night at Lafayette House, a hotel in Lower Manhattan. He was 27 and lived in Manhattan. His death was confirmed by his grandmother, the art collector and philanthropist Christophe de Menil, who said that Mr. Snow had died of a drug overdose."
For more info check out NYT and Gawker.
Meg Onli is a visual artist and blogger born and raised in Los Angeles, California. Meg moved to Chicago, Illinois in 2005 where she received a Bachelor in Fine Arts from the School of the Art Institute of Chicago. She has been with the Chicago-based art and culture podcast/blog Bad at Sports since 2006 where she is currently the Associate Producer. She has an unfathomable apatite for documentary films, 60s & 70s performance art, and cute cats. Meg has exhibited work in Los Angeles, Chicago, and New York City. Currently, she is working on a project that documents her steps in recording Motwon's first girl group sensation, the Marvelettes, version of "Where did Our Love Go?"