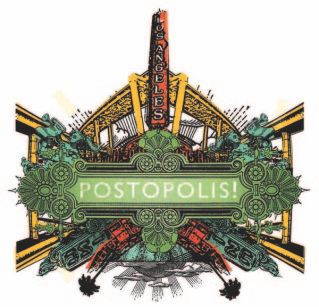 This coming week the awesome people at ForYourArt and five other blogs are putting together Postopolis! LA. If you're in LA it looks like something you should check out.
via Postopolis! LA
On the occasion of Los Angeles Art Weekend, Storefront for Art and Architecture and ForYourArt are pleased to announce Postopolis! LA, a live five-day event of near-continuous conversation about architecture, art, urbanism, landscape, and design to be held in Los Angeles from 31 March to 4 April 2009. Six bloggers, from five different cities around the world, will host a series of discussions,
interviews, slideshows, panels, talks, and presentations, fusing the informal energy and interdisciplinary approach of the architectural blogosphere with the immediacy of face-to-face interaction.
Hosted By: ArchDaily/Plataforma Arquitectura, BLDGBLOG , City of
Sound, Subtopia , Mudd Up!, We Make Money Not Art
For More info please visit Postopolis.
Meg Onli is a visual artist and blogger born and raised in Los Angeles, California. Meg moved to Chicago, Illinois in 2005 where she received a Bachelor in Fine Arts from the School of the Art Institute of Chicago. She has been with the Chicago-based art and culture podcast/blog Bad at Sports since 2006 where she is currently the Associate Producer. She has an unfathomable apatite for documentary films, 60s & 70s performance art, and cute cats. Meg has exhibited work in Los Angeles, Chicago, and New York City. Currently, she is working on a project that documents her steps in recording Motwon's first girl group sensation, the Marvelettes, version of "Where did Our Love Go?"