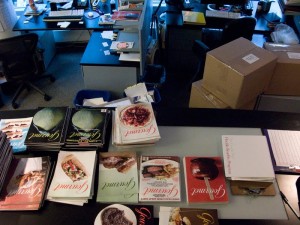 Kevin Demaria, associate art director at the recently-defunct (I still can't believe it) Gourmet magazine, created a website to document the publication's last days. I don't know why I was so surprised to learn that staffers at one of the world's premiere food magazines worked in standard, if not exactly drab, office-y surroundings, surrounded by sticky notes and bulletin boards and colored files and the like, but I was. About them, Demaria writes,
"October 5, 2009. In shock and disbelief, using garbage pails for long exposures, I took these photos of the last days at Gourmet. Although at times it was hard for me to shoot the common places in the offices at Gourmet, I knew I needed to document where I loved working for the last 8 years."
Through these images, Demaria is memorializing the camaraderie that existed within a particular office workplace more so than the spirit of the magazine itself. Then again, these banal – yet also strangely moving – photographs suggest that for the people who worked there, the spirit of Gourmet was very much embodied by their workplace, which sounds like it had been a happy one.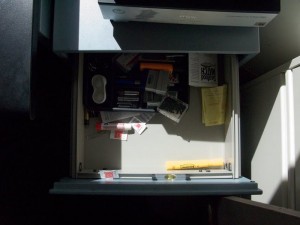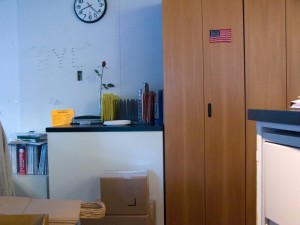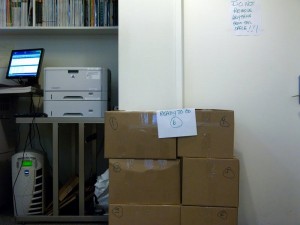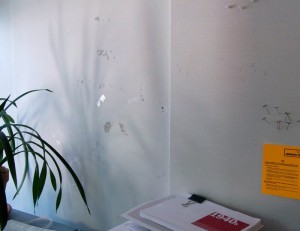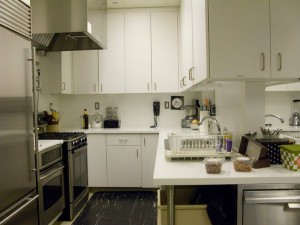 Via Eat Me Daily.
Claudine Isé has worked in the field of contemporary art as a writer and curator for the past decade, and currently serves as the Editor of the Art21 Blog. Claudine regularly writes for Artforum.com and Chicago magazine, and has also worked as an art critic for the Los Angeles Times. Before moving to Chicago in 2008, she worked at the Wexner Center in Columbus, OH as associate curator of exhibitions, and at the Hammer Museum in Los Angeles as assistant curator of contemporary art, where she curated a number of Hammer Projects. She has Ph.D. in Film, Literature and Culture from the University of Southern California.
Latest posts by Claudine Isé (see all)