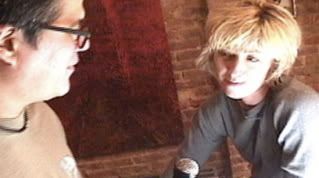 One of my favorite blogs, C-Monster, has an interview with 'Guest of Cindy Sherman' director Paul H-O. "During a series of exclusive interviews, Paul and Cindy fall in love and begin a romance. Unexpectedly, the relationship forces Paul to confront issues of ego, gender and identity as he gets caught up in the aura of Cindy's celebrity.With unprecedented access, the documentary places us in the company of the great artist. Spanning over 15 years and including more than fifty interviews with art world and entertainment luminaries…" The interview is a bit random. No mention of Sherman, mainly just some random questions but might be worth it if you like Paul H-O.
Guest of Cindy Sherman opens March 27th in selected theaters.
via C-Monster
C-M: What's the biggest stereotype about art?
H-O: That tremendous macho attitude that someone like Picasso embodied. Martin Kippenberger established a certain style for himself that way, too. Then there's Schnabel. People don't think I like Julian Schnabel, but, in fact, I adore him. He's given me great material. He is that larger-than-life figure. He adopts the attitude of being Picasso, and since he's such a visible figure, Hollywood people see him and say, "Here's an artist!"
Read the entire interview here.
Meg Onli is a visual artist and blogger born and raised in Los Angeles, California. Meg moved to Chicago, Illinois in 2005 where she received a Bachelor in Fine Arts from the School of the Art Institute of Chicago. She has been with the Chicago-based art and culture podcast/blog Bad at Sports since 2006 where she is currently the Associate Producer. She has an unfathomable apatite for documentary films, 60s & 70s performance art, and cute cats. Meg has exhibited work in Los Angeles, Chicago, and New York City. Currently, she is working on a project that documents her steps in recording Motwon's first girl group sensation, the Marvelettes, version of "Where did Our Love Go?"