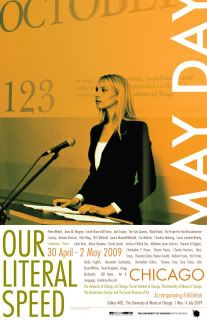 Our Literal Speed began last night. Finding a solid schedule has been semi difficult but below is a description of the series and some of the events I am hoping to attend. I think anything that is going to have Hal Foster with a drill team is probably worth checking out
"Our Literal Speed manifests the imperatives that materialize the theoretical and the pedagogical. No longer can we interpret forms of academic and artistic professionalism as neutral, abstract backgrounds to the aesthetic and performative. These activities have produced their own distinctive surfaces and procedures: the "aesthetic" has become discursive and "discourse" has become aesthetic.
Rather than a series of academic lectures, the conference/event is imagined as a kind of 'media pop opera' or 'administrative gesamtkunstwerk' that includes fluid and/or jagged transitions among scholarly presentations, panel discussions, artist's talks, performances, and an art exhibition within an academic conference. These emerging, hybrid forms demand a synthesis of collective activity (OUR), a self-reflexive examination of art history and its constitutive technologies (LITERAL), and an intense concern for the pace and texture of our movement through institutional mediation (SPEED). The project offers a temporary laboratory in which a concerned public can investigate non-formulaic, experientially vibrant and theoretically precise responses to the modes of distribution, consumption, and circulation that drive contemporary art."
Friday, May 1st
1:30pm – 4pm
Panel featuring Gregg Bordowitz, Julia Bryan-Wilson, Hannah B.
Higgins, Alison Knowles, and Joel Snyder
107 Kent Hall, University of Chicago
Exhibition opens at 8pm/Performances begin at 8:30pm
Works by: Academy Records, Gregg Bordowitz, Rainer Ganahl, Sharon Hayes, Jackson Pollock Bar, Hila Peleg, The Project for the New American Century, and The Size Queens
Gallery 400, University of Illinois at Chicago
400 South Peoria
Saturday, May 2nd
1:30pm – 4:30pm
Panel featuring Thomas Crow, Andrea Fraser, Boris Groys, Christine Mehring, and WJT Mitchell
Fullerton Hall, The Art Institute of Chicago
7pm – 9pm
Event featuring the South Shore Drill Team, Theaster Gates, Hal Foster, and Anne M. Wagner
107 Kent Hall, University of Chicago
9:30pm
Sharon Hayes will present "micro" "small" "phone" "voice" and other works in the lobby of the Smart Museum
For more information please check out Our Literal Speed's website.
Meg Onli is a visual artist and blogger born and raised in Los Angeles, California. Meg moved to Chicago, Illinois in 2005 where she received a Bachelor in Fine Arts from the School of the Art Institute of Chicago. She has been with the Chicago-based art and culture podcast/blog Bad at Sports since 2006 where she is currently the Associate Producer. She has an unfathomable apatite for documentary films, 60s & 70s performance art, and cute cats. Meg has exhibited work in Los Angeles, Chicago, and New York City. Currently, she is working on a project that documents her steps in recording Motwon's first girl group sensation, the Marvelettes, version of "Where did Our Love Go?"