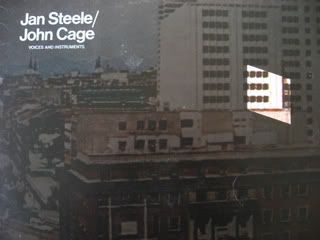 I seriously love WFMU's Beware of the Blog. I often find awesome tracks and albums that I would never have found on my own. While trolling their site for more info on the Masked Man and the Agents (check out their song Roaches) I came across John Steele and John Cage's 1976 album Voices and Instruments.
via Beware of the Blog:
"Brian Eno's Obscure Records label released only 10 albums during its existence from 1975 through 1978. Some of these have been reissued on CD (among them Eno's own 1975 masterpiece Discreet Music), but for some reason the album Voices and Instruments (Obscure No. 5, 1976) only exists on out-of-print vinyl. It is a very quiet and beautiful record, featuring three compositions by Jan Steele on one side, and five compositions by John Cage on the other side. Lyrics are by James Joyce and E. E. Cummings, performers include Jan Steele, Richard Bernas, Steve Beresford, Fred Frith, Robert Wyatt, and Carla Bley. It is not just mellow, it is avant-mellow…"
You can download the album via WFMU's site. If you do not already check them out you should add them to your list.
Meg Onli is a visual artist and blogger born and raised in Los Angeles, California. Meg moved to Chicago, Illinois in 2005 where she received a Bachelor in Fine Arts from the School of the Art Institute of Chicago. She has been with the Chicago-based art and culture podcast/blog Bad at Sports since 2006 where she is currently the Associate Producer. She has an unfathomable apatite for documentary films, 60s & 70s performance art, and cute cats. Meg has exhibited work in Los Angeles, Chicago, and New York City. Currently, she is working on a project that documents her steps in recording Motwon's first girl group sensation, the Marvelettes, version of "Where did Our Love Go?"