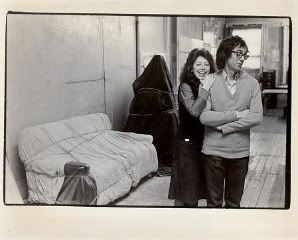 Jeanne-Claude of the artistic team Jeanne Claude and Christo suddenly passed away yesterday, November 18th. According to the Associated Press, Jeanne-Claude's death was due to complications from a ruptured brain aneurysm. Our thoughts go out to her family and friends.
If you have not seen 5 Films About Christo and Jeanne-Claude I would highly recommend it. Directed by David and Albert Maysles the documentary follows the pair as they conceive and produce their sculptures. Totally unscripted, and spanning three decades the film gives an intimate look into their relationship and the fiery personality that was Jeanne-Claude.
via Christo and Jeane-Claude's site:
The family statement said Christo was deeply saddened by his wife's death but was "committed to honor the promise they made to each other many years ago: that the art of Christo and Jeanne-Claude would continue." That included completing their current installation, "Over The River, Project for the Arkansas River, State of Colorado" and "The Mastaba" a project in the United Arab Emirates.
The Colorado project – which they had done parts of on and off for decades – involves spanning miles of the river with woven fabric. They chose the location near Canon City because of its river rapids and access to roads and footpaths. Their other projects include wrapping the Reichstag in Germany.
To view the life and work of Jeane-Claude please visit her and Christo's site.
Got a response to this post? Let us know! Email your comments to mail@badatsports.com. We'll feature thoughtful responses to issues generated by our posts in our Letters to the Editors Feature on Saturdays.
Meg Onli is a visual artist and blogger born and raised in Los Angeles, California. Meg moved to Chicago, Illinois in 2005 where she received a Bachelor in Fine Arts from the School of the Art Institute of Chicago. She has been with the Chicago-based art and culture podcast/blog Bad at Sports since 2006 where she is currently the Associate Producer. She has an unfathomable apatite for documentary films, 60s & 70s performance art, and cute cats. Meg has exhibited work in Los Angeles, Chicago, and New York City. Currently, she is working on a project that documents her steps in recording Motwon's first girl group sensation, the Marvelettes, version of "Where did Our Love Go?"