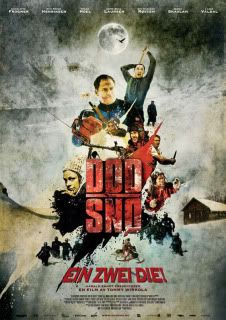 Tommy Wirkola's Nazi-zombie film Dead Snow looked as if it had everything needed to become a horror classic. But its predictable plot line and weak screen writing left much to be desired from the campy gore fest set in the mountains of Norway. The film follows 8 medical students as they relax during their Easter vacation. Before they even arrive at their remote cabin one member of their party, who decided to hike alone (obvious bad idea), is killed by the surprisingly swift zombies that inhabit the mountain. Billed as the next great horror film since Let the Right One In, the Norwegian film relies too heavily on film references and instead of expanding the Nazi-zombie sub genre.
Within the first night of their stay we learn from a creepy local that the village had been occupied by Nazis during WWII. Led by a treasure hungry Colonel Herzog the battalion pillaged the town of all of their gold. It wasn't long until the villagers rebelled and forced Herzog and his men into the freezing mountains. I had to wonder how they became zombies in the first place? Were they zombies to begin with? Did the cold make them zombies? Or did they encounter a zombie out in the mountain? None of these questions are addressed in the film but Wirkola does give some interesting attributes to his legion that separates them from other zombie films. For starters his zombies are abnormally fast but only when it is convenient for them to be. They also are able to use objects like binoculars and weapons, and are equipped with a keen sense for prey/treasure.
Once I let my expectations fade away, (comparing it to Let the Right One In is truly an injustice) I actually began to enjoy the gross out humor that plagues the movie. At one point in the film two of the horny characters get it on in an outhouse while one is taking a shit. When the zombies arrive the female is pulled under the outhouse. The next time we see her she is covered in shit and about to be ripped to shreds.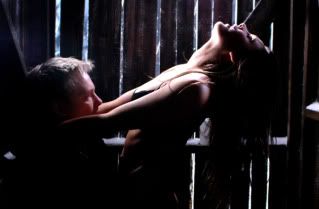 The film's flaws can be overlooked if you are into campy horror. If you want to see a film where a person's head is pulled apart and their brains fall on the floor then Dead Snow might be what you are looking for. If not, I would recommend skipping this film and catching Outpost, a less campy take on the Nazi-Zombie genre.
Meg Onli is a visual artist and blogger born and raised in Los Angeles, California. Meg moved to Chicago, Illinois in 2005 where she received a Bachelor in Fine Arts from the School of the Art Institute of Chicago. She has been with the Chicago-based art and culture podcast/blog Bad at Sports since 2006 where she is currently the Associate Producer. She has an unfathomable apatite for documentary films, 60s & 70s performance art, and cute cats. Meg has exhibited work in Los Angeles, Chicago, and New York City. Currently, she is working on a project that documents her steps in recording Motwon's first girl group sensation, the Marvelettes, version of "Where did Our Love Go?"