Last Monday, a woman Tweeted that her water broke moments after the event occurred. And it was a long Tweet too – close to the 140 character limit. I guess it was bound to happen. Now, to be fair, she's not just any woman, she's Sara Morishige Williams, the spouse of Twitter founder Ev Williams–probably the only person one would expect to Tweet at such a moment–and it was very early on in her labor. But still. I'm not one of Williams' Twitter followers, but upon learning of this news of course I had to know how far into the labor she got whilst hanging on to her iPhone (wow–you've gotta be pretty good with that thing if you're able to type on it with clenched fists).
Turns out, not too far. Her last Tweet before officially becoming a mother read: "Epidural, yes please." I can't help but think she kinda punked out by not Tweeting throughout the delivery. I mean, she's the wife of Twitter's CEO, for God's sake, shouldn't she feel some sort of cultural responsibility when it comes to this sort of thing?
Just kidding. Mostly.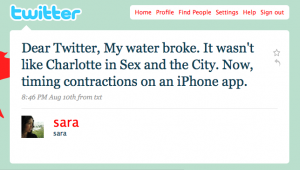 Claudine Isé has worked in the field of contemporary art as a writer and curator for the past decade, and currently serves as the Editor of the Art21 Blog. Claudine regularly writes for Artforum.com and Chicago magazine, and has also worked as an art critic for the Los Angeles Times. Before moving to Chicago in 2008, she worked at the Wexner Center in Columbus, OH as associate curator of exhibitions, and at the Hammer Museum in Los Angeles as assistant curator of contemporary art, where she curated a number of Hammer Projects. She has Ph.D. in Film, Literature and Culture from the University of Southern California.
Latest posts by Claudine Isé (see all)