Hmm, this is an unexpected pairing. Matthew Barney and Elizabeth Peyton are collaborating on "Blood of Two," an installation to inaugurate the Deste Foundation's new location on the Greek island of Hydra. It has its opening tomorrow. From the Deste website:
"Matthew Barney and Elizabeth Peyton will present a site-specific installation for the inaugural exhibition held in the island's slaughterhouse, a mysterious yet evocative location which will work as the new project space of the DESTE Foundation. The components of the installation will be realized together on-site and will be exhibited afterwards as one work. The exhibition marks the first occasion in which Barney or Peyton have collaborated.
Details of the project are being kept completely under wraps until the unveiling/opening, which of course is the exact right type of button to push with me — now I can't wait to see pictures of it, which is all I'll be able to get since my summer plans this year unfortunately don't include a trip to Greece. Here's the one picture that's been released: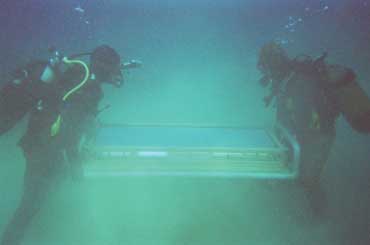 Oh wait–now, if I was a Cremaster Fanatic, perhaps I would have known that Peyton and Barney are friends. So maybe this pairing is not so unlikely after all? (Actually, I AM a big fan of Barney's Cremaster cycle, just not a "fanatic.")
Claudine Isé has worked in the field of contemporary art as a writer and curator for the past decade, and currently serves as the Editor of the Art21 Blog. Claudine regularly writes for Artforum.com and Chicago magazine, and has also worked as an art critic for the Los Angeles Times. Before moving to Chicago in 2008, she worked at the Wexner Center in Columbus, OH as associate curator of exhibitions, and at the Hammer Museum in Los Angeles as assistant curator of contemporary art, where she curated a number of Hammer Projects. She has Ph.D. in Film, Literature and Culture from the University of Southern California.
Latest posts by Claudine Isé (see all)