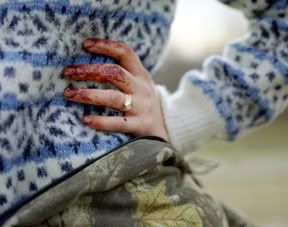 Erika Larsen, Wedding Ring, 2004, C-print
If you're in Chicago tonight go check out LOADED: Hunting Culture In America at the Glass Curtain Gallery. It's co-currated by BAS own Audrey Mast.
"For millennia, we've slaked our taste for protein by hunting and killing other animals. But over the last century or so, as hunting has gradually become superfluous to survival (at least in this country), it has taken on a new role as a moral battleground. American hunting culture "with its roots in notions of rugged individualism, the frontier spirit, and dominance over nature" has become an aesthetic and a lifestyle choice, steeped in regional and family traditions. The works in Loaded: Hunting Culture in America take a deliberately ambivalent view toward the morality of hunting and address the subject as social, cultural, and artistic phenomenon, ideally nudging viewers to question their own preconceptions regarding hunting. These artists provoke a conversation, with the veracity of hunting as a backdrop, about how we interact with the natural world, particularly as Americans."
LOADED includes work by:
David Buckingham, Kimberley Hart, Bob Lantz, Erika Larsen, Mathieu Lévesque, Brian Lesteberg, Diana Guerrero-Macì­a, Zoe Sheehan Saldana, Shaun Slifer, Jenn Wilson, Josh Winegar…and more!
LOADED is curated by Audrey Mast and Ann Wiens
Exhibition runs March 18 – April 29, 2009
Glass Curtain Gallery is at 1104 S Wabash, 1st Floor
Gallery Hours: M,T,W,F 9am-5pm, TH 9am – 7pm
Free and Open to the Public
Meg Onli is a visual artist and blogger born and raised in Los Angeles, California. Meg moved to Chicago, Illinois in 2005 where she received a Bachelor in Fine Arts from the School of the Art Institute of Chicago. She has been with the Chicago-based art and culture podcast/blog Bad at Sports since 2006 where she is currently the Associate Producer. She has an unfathomable apatite for documentary films, 60s & 70s performance art, and cute cats. Meg has exhibited work in Los Angeles, Chicago, and New York City. Currently, she is working on a project that documents her steps in recording Motwon's first girl group sensation, the Marvelettes, version of "Where did Our Love Go?"