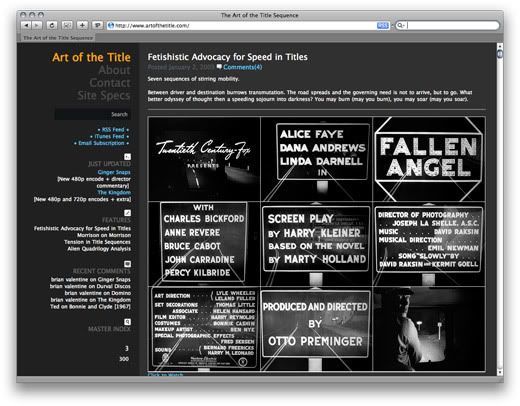 Things have been a little slow around here. I don't have many pressing news to reblog so here is a roundup of the things I did not post while on vacation.
I Love Typography reflected on the abundence of posts relating to the typography in film titles. I've noticed a bunch of sites and even segments in NPR mentioning it. Art of the Title (screen shot above) seems to have a pretty good selection.
Reference Library shows us the inside of Donal Judd's kitchen and Le Corbusier's Studio
The Met's new director, Thomas Campbell, makes a YouTube video.

MOCA names Charles E. Young new CEO, for now.
Meg Onli is a visual artist and blogger born and raised in Los Angeles, California. Meg moved to Chicago, Illinois in 2005 where she received a Bachelor in Fine Arts from the School of the Art Institute of Chicago. She has been with the Chicago-based art and culture podcast/blog Bad at Sports since 2006 where she is currently the Associate Producer. She has an unfathomable apatite for documentary films, 60s & 70s performance art, and cute cats. Meg has exhibited work in Los Angeles, Chicago, and New York City. Currently, she is working on a project that documents her steps in recording Motwon's first girl group sensation, the Marvelettes, version of "Where did Our Love Go?"