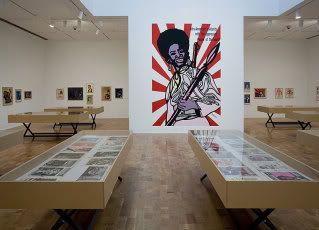 Emory Douglas will be speaking tonight, Tuesday, December 1st, at Columbia College. Douglas was the Minister of Culture for the Black Panther Party and recently has received a resurgence of interest after his touring retrospective. I had a chance to catch Black Panther: The Revolutionary Art of Emory Douglas at MOCA's Pacific Design Center in 2007 and am looking forward to hearing Douglas speak.
Tuesday, Dec 1, 2009
6:30 PM – 7:30 PM
Ferguson Auditorium, 600 S. Michigan Ave., 1st Fl.
via Columbia College:
"After working in a prison printshop while incarcerated as a teenager and more formally studying commercial art at San Francisco City College, Emory Douglas took on the role of Minister of Culture for the Black Panther Party, creating the group's visual style and iconic representations of the Black Power Movement. Through the party's newspaper The Black Panther, Douglas' graphic work helped motivate the disenfranchised to action throughout the 1960s, 70s and 80s. Colette Gaiter has describer him as the "Norman Rockwell of the ghetto" portraying the strength and dignity found among even the most harshly oppressed. This lecture is presented as part of the Scraping the Surface Lecture Series. Presented by Anchor Graphics, in conjunction with Critical Encounters: Fact & Faith."
Meg Onli is a visual artist and blogger born and raised in Los Angeles, California. Meg moved to Chicago, Illinois in 2005 where she received a Bachelor in Fine Arts from the School of the Art Institute of Chicago. She has been with the Chicago-based art and culture podcast/blog Bad at Sports since 2006 where she is currently the Associate Producer. She has an unfathomable apatite for documentary films, 60s & 70s performance art, and cute cats. Meg has exhibited work in Los Angeles, Chicago, and New York City. Currently, she is working on a project that documents her steps in recording Motwon's first girl group sensation, the Marvelettes, version of "Where did Our Love Go?"